USB Device Server enables sewing machines to go wireless.
Press Release Summary: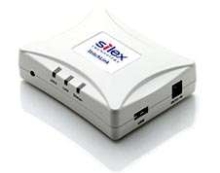 StitchLink(TM) allows users to wirelessly transfer software upgrades and embroidery patterns from PC to sewing and embroidery machines, eliminating need to use removable storage disks or have PC directly connected to sewing machine. Compatible with Windows XP and Windows 2000, single-port, 802.11b wireless device includes intuitive setup utility.
---
Original Press Release:

silex StitchLink Now Available From PFAFF to Provide Wireless Capabilities for Sewing Machines


Easy Wireless Connection Between PC and USB-Enabled PFAFF Sewing and Embroidery Machines

SALT LAKE CITY, Aug. 3 -- silex technology america, Inc. today announced that StitchLink(TM), a wireless USB device server designed to provide easy wireless access for USB-enabled sewing machines, can now be purchased through Pfaff dealers nationwide.

StitchLink supports Pfaff's creative 2140 and creative 2144 embroidery and sewing machines.

"StitchLink has been well received by sewing machine users," said Keith Sugawara, silex vice president of networking division. "This product has opened up a new consumer market for silex and we are pleased that we are able to provide a valuable service to sewing enthusiasts in North America through this partnership. In addition to recognizing the benefits wireless connectivity provides its customers, by offering StitchLink, Pfaff is building a bridge to the future of embroidery and sewing."

StitchLink allows users to wirelessly transfer software upgrades and embroidery patterns from a PC to the sewing and embroidery machine. This simple process eliminates the need to have a PC directly connected to the sewing machine or use removable storage disks. It also eliminates the tangle of cables that often run between the PC and the sewing machine.

"We're thrilled to offer silex's StitchLink, it just makes sense to add its wireless capabilities to our product offerings," said Chris Steedman, marketing manager for Pfaff. "StitchLink makes sending information from the PC to the sewing machine much more convenient and fun because it lets users have their computer located in one room and the sewing machine in another."

StichLink is as simple to use as a direct connection using a cable. StitchLink is a one-port, 802.11b Wireless USB device server designed to provide wireless access to USB sewing machines.
o Users can wirelessly download embroidery patterns as well as new software and upgrades for sewing machines
o It is the industry's first wireless USB device server specifically designed for sewing machines
o Allows users to more seamlessly communicate between their PCs and sewing machines
o It is compatible with Windows XP and Windows 2000
o Includes intuitive quick setup utility for easy setup

Availability
StitchLink has a MSRP of $249

StitchLink is now available through Pfaff dealers nationwide. silex product photos and spec sheets are available upon request. http://silexamerica.com/us/products/network/usb/stitchlink.html

About silex technology america
silex technology america, Inc. is a subsidiary of silex technology, Inc. (JASDAQ:6679), a 30-year developer of systems, developer of external and embedded device-to-device connectivity products and biometric readers and software. silex has become one of the largest global suppliers of print server products over the past 10 years, and also offers a full line of biometric fingerprint devices. silex technology america is focused on offering leading edge print servers, device servers, and fingerprint security devices that help enterprises, small to medium businesses and individuals improve the way they move data, print, and secure information. For additional information, call (801) 748-1199 or go to www.silexamerica.com or www.silexreseller.com.

CONTACT: Nobuhiko Miura of silex technology america, Inc., +1-801-748-1199, nmiura@silexamerica.com

More from Software