USB DAQ Device facilitates temperature measurement.
Press Release Summary: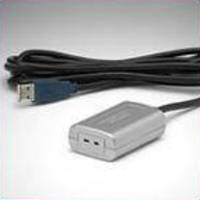 Featuring plug-and-play setup, Model USB-TC01 measures and records temperature data from thermocouples. Device features standard miniplug connector that enables customers to use different thermocouples to meet specific application needs. Since USB-TC01 is always connected to PC, users can take live measurements and view results instantly on PC monitor. Applications include HVAC units, cryogenics, industrial ovens, and engine exhaust and combustion systems.
---
Original Press Release:

National Instruments Introduces New Low-Cost USB Device to Simplify Temperature Measurements



New Device Features NI InstantDAQ Technology that Automatically Loads Built-In Measurement Software

National Instruments today announced the NI USB-TC01, a USB data acquisition (DAQ) device that measures and records temperature data from a thermocouple. The new device combines a quick and easy plug-and-play setup with the high-quality capabilities and features of NI DAQ products. The USB-TC01 thermocouple measurement device features NI InstantDAQ technology, which helps customers to instantly take temperature measurements with no set-up time or driver software installation. Additionally, the USB-TC01 features a standard miniplug connector that helps customers use different thermocouples to meet their specific application needs. Priced at $99 USD, the USB-TC01 is ideal for all types of labs and adds convenience to making temperature measurements.

Readers can see a demonstration of the USB-TC01 by viewing the video "NI USB-TC01 with NI InstantDAQ Technology" on www.ni.com/usb-thermocouple.

The new USB-TC01 device offers instant setup for a wide breadth of temperature applications for use in scientific labs; heating, ventilating and air conditioning (HVAC) units; cryogenics; industrial ovens and furnaces; engine exhaust and combustion systems; building monitoring; and many other environments. In addition to saving time and resources in system setup, the new device also exhibits the overall accuracy and reliability of more complex measurement systems. With traditional stand-alone data loggers, measurements are made independently of the PC so data can only be viewed offline. The USB-TC01 is always connected to the PC so customers can take live measurements and view results displayed instantly on the PC monitor.

Customers also have the option to expand upon the basic functionality of the USB-TC01 by downloading additional, free ready-to-run applications from www.ni.com. For further customization, customers can build their own applications by combining the USB-TC01 with NI LabVIEW graphical system design software and NI-DAQmx driver software.

For more information on the USB-TCO1 thermocouple measurement device, readers can visit www.ni.com/usb-thermocouple. Additionally, the "Advantages of PC-Based Data Logging" whitepaper, located on the NI Developer Zone on www.ni.com, provides readers information on advantages of using a PC to take measurements.

About National Instruments

National Instruments (www.ni.com) is transforming the way engineers and scientists design, prototype and deploy systems for measurement, automation and embedded applications. NI empowers customers with off-the-shelf software such as NI LabVIEW and modular cost-effective hardware, and sells to a broad base of more than 30,000 different companies worldwide, with no one customer representing more than 3 percent of revenue and no one industry representing more than 15 percent of revenue. Headquartered in Austin, Texas, NI has more than 5,000 employees and direct operations in more than 40 countries. For the past 11 years, FORTUNE magazine has named NI one of the 100 best companies to work for in America.

Pricing and Contact Information

NI USB-TC01

Priced* from $99; 99; ¥12,000

Web: www.ni.com/usb-thermocouple

*Prices are subject to change without notice.

Contact Sales: www.ni.com/contact

E-mail: [email protected]