USB DAQ Board Packs High-Performance Features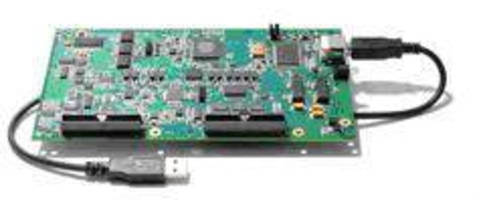 November 05, 2008

Packing all the features of a high-performance data-acquisition (DAQ) module without any limitations, the DT9818 USB DAQ board targets embedded applications rather than the more common USB approach of connecting externally to a PC. The module runs completely on USB power while simultaneously providing ±500V of galvanic isolation. The board-only OEM version allows users to embed DAQ capabilities directly into a USB system and several software options are available for application development from ready-to-measure programs, i.e., Measurement Applets and quickDAQ, to full graphical programming with Measure Foundry application-development builder. Other board features include 16 analog inputs, two analog outputs, 16 digital I/Os, two 32-bit counter/timers, simultaneous subsystem operation of all subsystems at throughput rates up to 150 kHz, true 16-bit resolution for both the analog input and output subsystems, and independent clocking and triggering for I/O subsystems. Price is $895 each in OEM quantities.

DATA TRANSLATION INC.,
Marlboro, MA.
(800) 525-8528.

More from Materials