USB Controller drives TFT LCDs without graphics card.
Press Release Summary: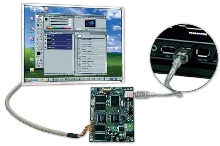 ArtistaUSB controller lets users control VGA and SVGA TFT LCDs via USB interface. It facilitates addition of primary or secondary TFT monitors to various systems and makes it possible to control 100+ displays with different content from one PC, SBC, or microcontroller. Device can be run up to 16 ft from source and offers data transfer rates to 60 Hz/60 images/sec via USB 2.0 for VGA resolutions and 30 Hz/30 images/sec for SVGA resolutions.
---
Original Press Release:

ArtistaUSB Controller Features USB Interface and Eliminates Need for Graphics Card to Drive VGA & SVGA TFT LCDs


Ronkonkoma, NY, July 2005 - The new ArtistaUSB controller from LCD Specialist Apollo Display Technologies now makes it possible to control VGA & SVGA TFT displays via a standard USB interface - with no graphics card required. All you do is plug the controller into the USB interface on your computer to display brilliant images on your TFT LCD.

The ArtistaUSB controller also makes it significantly more cost effective to add primary or secondary TFT monitors to POS, POI, medical and measurement systems. It even makes it possible to control more than 100 displays with different content from a single PC, SBC or micro controller.

Apollo currently offers the new controller integrated with 6.4", 6.5", 8.4", 10.4", 12.1" and 20.1" TFT LCDs. Optional 4-wire resistive touch screens and backlight inverter are also available, with touch and brightness control possible through the USB controller.

The transfer of pixel data is carried out by optimal utilization of the USB transmission protocol and provides a very high transfer rate, even enabling video playback. Special graphics drivers embedded in the ArtistaUSB controller run displays as a virtual graphics card - just like a typical monitor running under Windows 2000/2003/XP. The drivers can also be used to run a second, third or fourth monitor, each with unique content. The controller can optionally be installed as a frame buffer device running under Linux.

Each ArtistaUSB controller unit can be run 16 ft. (4.87 m) or more from the source, with data transfer rates up to 60 Hz/60 images per second via USB 2.0 (high speed) for VGA resolutions, and 30 Hz/30 images per second for SVGA resolutions. USB 1.1 (full speed) can run VGA resolutions at 2 images per second and 1.25 images per second for SVGA resolution displays. Supply voltage is 12V; operating range 0-70º C; storage temperature range -25-70º C.

Production pricing at 10K units is $65.00 each for the ArtistaUSB controller. Delivery is typically 4-6 weeks for samples, and 8-12 weeks for production volumes.

For further information, contact: Richard McKay, Apollo Display Technologies, LLC, 85 Remington Blvd., Ronkonkoma, NY 11779. Tel: (631) 580-4360; Fax: (631) 580-4370; Email: sales@apollodisplays.com; Web: http://www.apollodisplays.com/whatsnew.php.

More from Thermal & Heating Equipment