USB Charger features tamper-resistant receptacle.
Press Release Summary: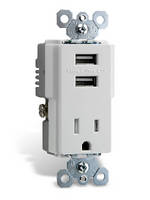 Combining 2 USB A-style charging outlets with 15 Aac tamper-resistant receptacle, USB Charger allows multiple 5 Vdc electronic devices to be powered up at one time via USB cables, eliminating need for transformer-style plugs. USB outlets are for charging only - not data transfer. Able to replace any standard duplex receptacle, charger is compatible with iPad, iPhone, and iPod as well as tablets, mobile phones, smartphones, Bluetooth headsets, digital cameras, and GPS units.
---
Original Press Release:

Legrand/Pass & Seymour Introduces Tamper-Proof USB Charger Receptacles



SYRACUSE, N.Y. - Legrand/Pass & Seymour (P&S), a leading provider of electrical wiring devices and home systems, has announced the availability of its USB Charger with Tamper-Resistant Receptacle.

Perfect for residential use, the USB Receptacles feature a combination of 2 USB "A" style charging outlets and a 15 amp A.C. tamper-resistant receptacle. This allows multiple 5-volt DC electronic devices to be powered up at one time via USB cables, eliminating the need for bulky transformer style plugs and potentially reducing energy costs. The USB outlets are for charging only - not data transfer.

"The Combination USB Charger Tamper-Resistant Receptacle replaces any standard duplex receptacle and offers the safety of a tamper-resistant receptacle and the convenience of USB charging outlets" says Thomas Roy, senior product line manager for Legrand/Pass & Seymour. "The 2.1A USB outlets are convenient and work with all 2.0/3.0 USB-style electronic devices, including the entire range of Apple products."

With its compact design, the USB Charger with Tamper-Resistant Receptacle is no larger than a standard combination device. It easily replaces any existing duplex receptacle and uses standard decorator style wall plates.

The Combination USB Charger with Tamper-Resistant Receptacle is compatible with the following products:

o iPad

o iPhone

o iPod

o Tablets

o Mobile Phones

o Smartphones

o Nintendo 3DS

o Sony PlayStation Vita

o Bluetooth Headsets

o Digital Cameras

o Kindle

o GPS, and much more

Connect with Legrand/Pass & Seymour on Facebook www.facebook.com/legrandna, Twitter www.twitter.com/passandseymour or www.twitter.com/legrandna, and YouTube http://www.youtube.com/legrandna

About Legrand

Legrand is the global specialist in electrical and digital building infrastructures. Its comprehensive offering of solutions for use in commercial, industrial and residential markets makes it a benchmark for customers worldwide. Named to Forbes'2011 list of the 100 Most Innovative Companies, Legrand believes innovation for a steady flow of new products with high added value is a prime vector for growth. Legrand reported sales of $5.7 billion in 2010. Legrand has a strong presence in the North American market, with a portfolio of well-known product lines that include Cablofil, Electrorack, On-Q, Ortronics, Pass & Seymour, Vantage, Watt Stopper and Wiremold. The company is listed on NYSE Euronext and is a component stock of indexes including the SBF120, FTSE4Good, MSCI World, ASPI. In 2010, Legrand was added to the European DJSI as well (ISIN code FR0010307819). www.legrand.us

More from Software