USB 3.0 Cable Assemblies feature right angle design.
Press Release Summary: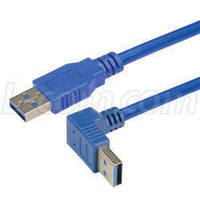 Capable of 4.8 Gbps, Right-Angle USB 3.0 Cable Assemblies are specifically designed for high-speed data applications in tight spaces. Cables also support high-resolution cameras used in USB3 Vision applications. Available in 6 stock lengths with up or down exits and Type A, B, and Micro-B configurations, products feature molded connectors with 30 µin. gold-plated contacts and are fully shielded to protect against EMI/RFI.
---
Original Press Release:

L-com Launches Right-Angle USB 3.0 Cable Assemblies



NORTH ANDOVER, Mass. – L-com Global Connectivity, a preferred manufacturer of wired and wireless connectivity products, announced today that it has developed a line of right-angle USB 3.0 cable assemblies.



L-com's right-angle USB 3.0 cable assemblies are specifically designed for high-speed data applications in tight spaces. They also support high-resolution cameras used in USB3 Vision applications. Capable of 4.8 Gbps, these cables are ten times faster than L-com's USB 2.0 angled cables.



"There is a need for cables that can maneuver the constrictions associated with smaller devices and tighter, enclosed spaces. USB 3.0 connectors are the same size or larger than their 2.0 equivalents; as such, space is at even more of a premium. Our right-angle USB 3.0 cable assemblies are the perfect solution for high-speed data applications in confined spaces," said Steve Smith, Product Manager.



L-com's right-angle USB 3.0 cable assemblies are available in six stock lengths with up or down exits and Type A, B, and Micro-B connector configurations. They feature molded connectors with 30-micro-inch gold-plated contacts and are fully shielded to provide protection against EMI/RFI.



For more information about this release, please contact:

Peter McNeil

Marketing Manager

978-682-6936 x1174

pmcneil@l-com.com



About L-com Global Connectivity:

L-com Global Connectivity, a preferred manufacturer of wired and wireless connectivity products, offers a wide range of solutions and unrivaled customer service for the electronics and data communications industries. The company's product portfolio includes cable assemblies, connectors, adapters, computer networking components, and custom products, as well as their HyperLink® brand of wireless products which include antennas, RF amplifiers, coaxial lightning and surge protectors, and NEMA rated enclosures. L-com's HyperLink® wireless products are designed for WiFi, WiMAX, SCADA, 802.11a/b/g/n/ac, RFID and Bluetooth applications. In addition to HyperLink® , L-com's other brands include MilesTek®, specialists in Military/Aeronautics connectivity solutions and Aiconics®, a leading manufacturer of electrical connector products.  Trusted for more than 30 years, L-com, which is headquartered in North Andover, Mass., is ISO 9001: 2008 certified and many of its products are UL-recognized. For more information, please visit:  http://www.L-com.com/.



Friendly & Knowledgeable Service - In Stock Availability & Same Day Shipping - 100% Satisfaction Guaranteed

Connect with L-com:   Twitter   Facebook   YouTube   Google+  LinkedIn

More from Electrical Equipment & Systems