USB 2.0 Hubs are certified to USB-IF standards.
Press Release Summary: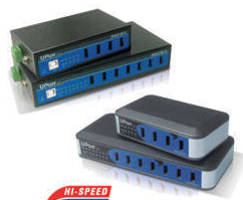 Industrial-grade UPort(TM) 200 and 400 series provide true USB 2.0 Hi-Speed 480 Mbps data transmission through each port, even for heavy-load applications. As external plug-and-play hubs, products can be inserted into standard USB port to provide instant peripheral device connectivity. Devices offer 8 kV of ESD contact protection and 15 kV ESD of air protection. For use in harsh conditions and extreme temperatures, UPort 404-T and UPort(TM) 407-T support -40 to +85°C operating range.
---
Original Press Release:

Moxa USB 2.0 Hubs First to Receive USB-IF Certification



Taipei, Taiwan, Mar 20, 2009- Moxa is pleased to announce that its new line of industrial-grade USB hubs, the UPort(TM) 200 and 400 series, are the world's first to receive USB-IF certification for reliable peripheral plug-and-play devices. The hubs are designed to provide true USB 2.0 Hi-Speed 480 Mbps data transmission through each port, even for heavy-load applications. As USB-IF certified products, the UPort(TM) 200 and 400 series have passed high speed compliance testing and are eligible to bear the official USB logo.

The UPort(TM) 200 and 400 series are external plug-and-play hubs that can be plugged into a standard USB port for instant peripheral device connectivity. For industrial networks, high reliability can never be compromised. As defined by the USB-IF (USB Implementers Forum), certification for Moxa's UPort(TM) USB hubs guarantees:

1. 480 Mbps USB 2.0 transmissions
2. Device accessibility
3. 100% power for connected devices
4. High-speed operation from suspend mode

Electrostatic discharge (ESD) can be as severe as over one thousand volts with a high rise time (dv/dt) breaking through the junction layer of protective devices. To guard against serious damage, the UPort(TM) 200 and 400 series have doubled ESD protection from Level 2 (4KV) to Level 4 (8KV), offering 8 KV of ESD contact protection and 15 KV ESD of air protection. For industrial applications that need to operate under harsh conditions and extreme temperatures ranging anywhere from -40 to 85°C, the UPort(TM) 404-T and UPort(TM) 407-T models provide wide temperature support.

About MOXA

Moxa manufactures device networking products for industrial automation. Information about all Moxa products, which include industrial embedded computers, industrial Ethernet switches, serial device servers, multiport serial cards, embedded device servers, and remote I/O servers, is available on Moxa's corporate website at www.moxa.com. You may also contact Moxa directly by email at info@moxa.com, or by phoning +886-2-8919-1230

More from Packaging Products & Equipment