USB 2.0 Hub Controller includes memory card reader.
Press Release Summary: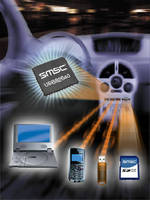 Targeting automotive applications, 2-port TrueAuto(TM) USB82640 and USB82660 enable users to access navigation data and entertainment content stored on solid state memory cards. Model USB82640 provides 2 downstream USB 2.0 ports plus single SD(TM)/MMC(TM) or Sony MemoryStick(TM) memory card interface, while Model USB82660 provides second SD card interface and is capable of operating up to ambient temperature of 105°C. SDIO interface can be used to add WiFi, Bluetooth®, and GPS connections.
---
Original Press Release:

SMSC Delivers Industry First Automotive USB 2.0 Hub Controller and Card Reader Combination Devices



TrueAuto(tm) Devices Meet Stringent Automotive Reliability Standards and Enable Access to Entertainment and Navigation Content via Memory Cards

Hauppauge, NY, May 27, 2009 - SMSC (NASDAQ: SMSC), a leading semiconductor company that provides Smart Mixed-Signal Connectivity(tm) solutions, today announced the USB82640 and USB82660 single-chip, 2-port USB 2.0 hub controllers combined with memory card reader functionality, allowing customers to access navigation data and entertainment content stored directly on solid state memory cards. The introduction of these integrated connectivity devices marks the expansion of SMSC's portfolio of TrueAuto(tm) solutions that are designed, fabricated, tested, characterized, qualified and supported specifically for use in highly reliable automotive applications.

"Portable memory cards are used by passengers to transfer information created on computers, portable media players or cameras into the car. Solid state memory is also increasingly replacing rotating media inside automotive infotainment devices like navigation systems to store content such as map data. These in-box use cases require true automotive-grade reliability," said Christian Thiel, Vice President and General Manager of SMSC's Automotive Information Systems group. "Our new combination hub and card reader devices, designed with our TrueAuto quality process, give car makers the ability to design highly reliable data access devices for their information and entertainment systems, whether those devices connect to internal peripherals or provide external consumer access."

The USB82640 provides two downstream USB 2.0 ports plus a single Secure Digital(tm) (SD)/MultimediaCard(tm) (MMC) or Sony MemoryStick(tm) memory card interface. The USB82660 provides a second SD card interface and is capable of operating up to an ambient temperature of 105 degrees Celsius. The second memory card interface enables navigation data and entertainment content to be accessed simultaneously when stored in popular memory card formats. The SDIO interface can be used to attach modules that provide additional features such as WiFi, Bluetooth(r) and GPS connections. Car makers can build complex automotive systems with confidence because the quality that the TrueAuto approach delivers ensures that both internal and external connections are highly reliable. Both products are high-performance, low-power, small footprint controller ICs. Additional advanced features include:

- PortMap to enable flexible port mapping and port disable sequences so that a single part can be used in multiple platforms that require 2, 3 or 4 USB ports.

- PortSwap to ease PCB design by aligning signal traces directly to connectors.

- PHYBoost to allow for programmable transceiver drive strength to aid in preserving signal integrity in complex system environments.

About TrueAuto:

TrueAuto is SMSC's automotive quality process. It has proven its capability to deliver leading edge quality and services to fulfill the needs of even the most demanding automotive customers. If integrated circuits ("ICs") that have been designed for consumer applications are intended for use in automotive applications, they are usually qualified according to the Automotive Electronics Council's (AEC-Q100) qualification requirements. AEC-Q100 however, just covers minimum common requirements for the qualification of an automotive IC. Many car companies and tier one automotive suppliers require extensive additional qualification tests, as AEC-Q100 alone does not lead to the ultra low defect rates that they require. In addition, AEC-Q100 primarily focuses on the qualification phase of the product cycle of an IC. Other phases such as the design and production of the IC, customer support and the handling and investigation of returns are not covered in detail. In order to reach the automotive goal of near zero defect rates, all phases of the IC product cycle need to be addressed thoroughly.

TrueAuto is SMSC's proven total approach to true automotive-grade quality. TrueAuto robustness begins with SMSC's design for reliability techniques within the silicon IC itself. Automotive-grade excellence and testability are designed into the IC. The IC is fully characterized over many operating parameters to prove the quality of the design under various conditions. Also, product qualification is focused on the most demanding customer expectations. It meets or exceeds automotive reliability standards and customer specific requirements. SMSC's TrueAuto approach goes far beyond the stress tests prescribed by the AEC-Q100 specifications. In addition, extensive technologies and processes, such as enhanced monitors are used in fabrication of TrueAuto products in order to continuously drive improvements in accordance with SMSC's zero Defects per Million (DPM) goals.

Availability:

Samples of the USB82640 and USB82660 are available today.

About SMSC:

Many of the world's most successful global technology companies rely upon SMSC as a go-to resource for semiconductor system solutions that span analog, digital and mixed-signal technologies. Leveraging substantial intellectual property, integration expertise and a comprehensive global infrastructure, SMSC solves design challenges and delivers performance, space, cost and time-to-market advantages to its customers. SMSC's application focus targets key vertical markets including consumer electronics, automotive, PC and industrial applications. The Company has developed leadership positions in its select markets by providing application specific solutions such as mixed-signal embedded controllers, non-PCI Ethernet, ARCNET, MOST(r) and Hi-Speed USB.

SMSC is headquartered in Hauppauge, New York with operations in North America, Asia and Europe. Engineering design centers are located in Arizona, New York, Texas and Karlsruhe, Germany. Additional information is available at www.smsc.com.

SMSC and MOST are registered trademarks and Smart Mixed-Signal Connectivity and TrueAuto are trademarks of Standard Microsystems Corporation. Product names and company names are trademarks of their respective holders.

More from Software