UPS System suits systems requiring up to 80 kVA.
Press Release Summary: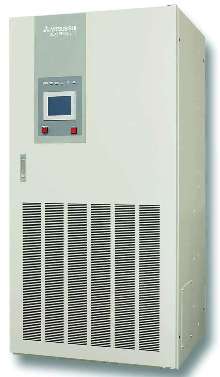 Series 2033D, with Insulated Gate Bipolar Transistors, offers true on-line double conversion UPS module with 480 V input and 480 or 208 V output specification. Equipped with internal wrap-around zero energy bypass system, series includes modules with 30, 50, and 80 kVA capacity ratings that offer ability of parallel operation of 2 UPS modules of same capacity. Features include dual inputs, ripple-free DC output, and line drop compensation.
---
Original Press Release:

Mitsubishi Introduces 2033D Series Uninterruptible Power Supply System


Superior Performance, Reliability and Safety with Increased Efficiency for Systems Requiring up to 80kVA

VERNON HILLS, IL- June 2003 -- Mitsubishi Electric Automation, Inc. introduces its 2033D Series Uninterruptible Power Supply (UPS) System with Insulated Gate Bipolar Transistors (IGBT's). Mitsubishi is the leading manufacturer of these advanced, high current transistors that provide high speed switching, high performance specification and low control power. The 2033D Series specification offers a true on-line double conversion UPS module with 480V input and 480V or 208V output specification.

The 2033D Series UPS modules are available in three capacity ratings - 30kVA, 50kVA, and 80kVA, with the ability of parallel operation of two UPS modules of the same capacity for system redundancy. Each UPS module provides low input current harmonics (4 percent typical at 100 percent load, 5 percent typical at 75 percent load, 7 percent typical at 50 percent load) without the need for additional filtering, and all are equipped with an internal wrap-around "zero energy" bypass system for greater maintenance flexibility.

The 2033D Series UPS provides cost savings on installation and operation. The 2033D Series UPS systems have a 1:1 generator sizing ratio, eliminating the need to oversize the generator requirement rating. The use of IGBTs in the converter and inverter with improved PWM control technology enables efficient high-speed switching which reduces heat dissipation. Higher efficiency means lower cost per kilowatt to the customer. Previous UPS systems required battery assistance when the converter was unable to supply the required current. This cycling of the batteries reduced their service life. Mitsubishi Electric IGBT modules, and converter and inverter control circuitry provides step-load applications (0-100%) without the use of batteries, increasing battery life and lowering the lifetime cost of the UPS system. Add to that the real time battery monitoring and the integrated "Diamond Sense" system that automatically detects weak cells and you have a system designed for optimum battery service.

Additional features of the 2033D Series UPS include: dual inputs, automatic restart and retransfer, converter walk-in function, ripple-free DC output, large overload/overcurrent capacity, output isolation transformer, battery temperature compensation, adjustable DC cut-off, and line drop compensation. All of these features being accomplished quietly with an acoustic noise level of only 65dB.

The 2033D Series is competitively priced and comes with a 2-year standard warranty. The 2033D Series UPS also includes as standard, an advanced operator terminal touch screen with high communication capabilities (Ethernet 10Base-T offering Web monitoring functionality). In addition, the 2033D Series UPS can be used with the DiamondLink software package, an advanced, user-customizable power monitoring management and shutdown software that is compatible with 90% of all operating systems. This software is multilingual and provides paging, email capability during power events, auto-dial and multiple server shutdown capabilities.

Mitsubishi Electric Automation, Inc., Vernon Hills, IL, offers a comprehensive line of factory automation solutions. Products include uninterruptible power supplies, programmable controllers, human-machine interfaces, variable frequency drives, servo amplifiers and motors, motion controllers, computer numerical control, PC-based CNC, linear servos, robots and industrial sewing machines, for a broad range of factory automation applications. Visit the Mitsubishi web site at www.meau.com.

More from Cleaning Products & Equipment