UPS provides offline protection of PCs and POS systems.
Press Release Summary: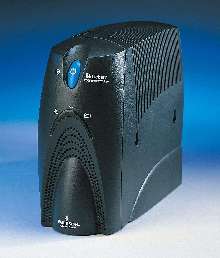 PowerSure PSP combines minimum of 4 min battery backup at full-load, with lightning and surge protection for up to 6 outlets and 1 data line. Units available in 350-650 Va and provide battery power for uninterrupted operation during short power outages. If outage exceeds battery capacity, PowerSure PSP utilizes USB or serial connection to provide controlled, orderly shutdown. Audible and visual alarms alert users to conditions that may lead to shutdown.
---
Original Press Release:

Liebert Launches PowerSure PSP for Full-Featured Offline Protection of PCs and Point-of-Sale Systems


Feature-packed offline UPS combines reliability and functionality to increase computer system availability

COLUMBUS, Ohio, July 22, 2003 ­ Liebert® Corporation today launched PowerSure PSP, the latest addition to the PowerSure family of small UPS and surge suppression systems. PowerSure PSP is an offline UPS providing economical, efficient power protection with a feature set normally found only on more expensive systems.

Combining a minimum of four minutes of battery backup at full-load, with lightning and surge protection for up to six outlets and one data line, PowerSure PSP delivers the most complete desktop protection available in an offline system. It is available from 350VA to 650VA and provides ample battery power to provide uninterrupted operation during short power outages. In the event an outage exceeds battery capacity, PowerSure PSP utilizes either a USB or serial connection to provide a controlled, orderly shutdown. This versatility makes PowerSure PSP an ideal choice for applications with a mix of legacy and newer desktop systems.

"Users that do not require sophisticated voltage regulation, such as on our PowerSure PSA system, do not have to sacrifice features and functionality," said Tony Marrow, PowerSure product manager at Liebert. "The PowerSure PSP shares many of the features of our popular PowerSure PSA, while providing the economic value and efficiency of offline protection."

PowerSure PSP is designed for easy set-up and installation with USB and serial communications options, battery-backed and surge-only outlets and user-replaceable, hot-swappable batteries. It is certified by Microsoft for use with Windows XP and 2000 systems and by Apple Computer, Inc., for its Macintosh OS X (version 10.2 or later).

PowerSure PSP Features
- Four battery-backed UPS outlets and two surge-only outlets enable complete protection of almost any system and its peripherals
- Integrated transient voltage suppression system (TVSS) protects against incoming surges and spikes
- Dataline surge suppression protects modems, fax, network, DSL and other communications equipment from surges and spikes
- User-replaceable, hot swappable batteries deliver a minimum of four minutes of power at full load
- Serial or USB communications options ensure controlled shutdown for new and legacy systems. With the USB option, Windows or the Macintosh OS built-in Power Management function monitors UPS status and provides orderly shutdown if an outage exceeds battery capacity. The serial communications option uses Liebert Multilink software to control the shutdown of systems that do not have a USB interface.
- Audible and visual alarms alert users to conditions that may lead to shutdown
- Two-year warranty

PowerSure PSP pricing ranges from $128 to $228, depending upon the model.

PowerSure is a family of desktop UPS and surge suppression systems that leverage Liebert's high availability experience and expertise to deliver reliable, cost-effective protection for independent workstations, small networks, remote offices, retail locations, and other sensitive electronics. For more information about PowerSure products, visit www.liebert.com or call 1-800-877-9222.

About Liebert Corporation
Liebert is the world leader in systems that protect the availability of computers and other sensitive electronics. Liebert delivers unparalleled protection of critical systems through a complete range of power, environmental and monitoring systems that are tailored to application requirements by a network of local representatives that average better than 16 years of experience in the industry. Liebert Global Services is the world's largest service team dedicated to the maintenance and on-site repair of critical computer support systems. Liebert is a division of Emerson Network Power, one of eight businesses that comprise St Louis-based Emerson, a global technology and engineering company with sales in fiscal 2002 of $13.8 billion. For more information on Liebert, visit www.liebert.com

More from Machinery & Machining Tools