UPS has Windows Me certification.
Press Release Summary: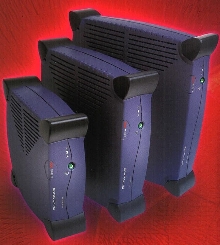 Pulsar Ellipse Uninterruptible Power Supply (UPS), with Universal Serial Bus (USB) or serial RS232 port, offers plug-and-play installation while optimizing power usage and maximizing file protection. Ellipse UPS, together with Solution-Pac Power Management software, automatically signals operating system and conducts safe shutdown upon extended power failure. Unit includes built-in surge protection and data line protection.
---
Original Press Release:
Microsoft(R) Awards Windows(R) Me Certification for MGE's Innovative Pulsar Ellipse UPS Products

MGE is the First UPS Vendor to Obtain Certification; Home PC Users Now Have Truly Seamless Integration of Power Protection with Windows Me

COSTA MESA, Calif. - December 12, 2000 - MGE UPS SYSTEMS, the technology leader in uninterruptible power supplies (UPS) has just been awarded Microsoft's Windows Millennium Edition (Me) Certification logo for its innovative line of affordable Pulsar Ellipse UPSs with Universal Serial Bus (USB) or serial RS232 port. With this certification, home PC users can be assured that MGE's Ellipse UPSs are completely compatible with the new Me Operating System.

Due to the enhanced digital capabilities of Windows Me, users can now easily share and manage digital pictures, movie clips, audio files and photo albums. These types of files are especially vulnerable to power problems - even the slightest power glitch can cause lost packets of video and corrupted files. The Windows Me certified Ellipse products ensure the highest level of power protection in a distinctive and attractive package.

MGE's new Ellipse UPSs offer plug-and-play installation while providing a robust feature set to optimize power usage and maximize file protection - essential in any PC environment. Upon an extended power failure, MGE's Ellipse UPS together with MGE's Solution-Pac Power Management software automatically signals the operating system and conducts a safe and orderly shutdown.

"Windows Me users will appreciate that they can depend on the Ellipse to provide the highest level of power protection to safeguard their PCs and digital files, Our design and product development teams have worked closely with Microsoft to develop the optimum power protection solution in an attractive and affordable plug-and-play package. We're proud to have collaborated with Microsoft over the years to co-develop optimum solutions for Microsoft's customers," stated Daniel Doimo, vice president marketing for MGE UPS SYSTEMS, Inc.

MGE's new Ellipse products, which start at $119, represent one of the most successful UPS launches to date.
More than 300,000 Ellipse UPSs have been sold around the world in just 10 months.
More from Construction Equipment and Supplies