Upholstery/Carpet Cleaners offer small size, maneuverability.
Press Release Summary: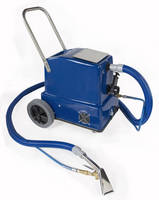 Powered by 4.1 bar system pumps and twin-staged vacuum motors, 50 Hz unheated XPC-5750U series accommodates needs of cleaning pros and contractors who deal with delicate materials, business furniture, and vehicle interiors. Mobile and portable carpet extractors, measuring under 40 x 60 x 60 cm and weighing under 25 kg, generate nearly 255 cm fluid lift and 50 Lps air flow. Pump systems are rated for pressures to 4.1 bar, and users can add hot water up to 60°C for heated cleaning.
---
Original Press Release:

50 Hz Upholstery Carpet Cleaners Offer Small Size, Maneuverability



Daimer®'s smallest footprint, unheated 5750U systems offer cleaning contractors a blend of power, compact size and unheated cleaning for delicate materials and vehicle interiors.

WOBURN, MA, U.S.A. - Daimer Industries®, a metro-Boston-based vendor of 50 Hz upholstery carpet cleaners, has announced availability of a new unheated line for cleaning pros and contractors seeking a small system for business furniture and vehicle interiors. The professional-caliber XPC-5750U carpet extractors are powered by 4.1 bar system pumps and twin-staged vacuum motors.

"The new XPC-5750U upholstery carpet cleaners provide our 50 Hz professional cleaning customers with another option for cleaning offices and vehicle interiors," noted Daimer.com professional upholstery systems pressperson Matthew Baratta. "Each XPC-5750U is designed to be mobile, portable, and powerful."

50 Hz Unheated Upholstery Carpet Cleaners

Each one of the XPC-5750U carpet extractors for upholstery measures under 40 cm deep by under 60 cm wide. The units are about 60 cm in height and weigh less than 25 kg. The portable machines use a power system composed of a twin-staged vacuum motor. The upholstery carpet cleaners are capable of generating nearly 255 cm of fluid lift and just under 50 LPS of rated air flow. The pump systems are rated for pressures that can reach 4.1 bar. The unheated carpet shampooers are engineered for use on the most delicate rugs and upholstery, including wool. For heated cleaning, users can add hot water up to 60°C.

The upholstery carpet cleaners incorporate Daimer®'s custom FAST DRY, low-fluid technology that minimizes upholstery wetness and allows for drying times of as little as one hour (as little as six hours for carpets and rugs). The FAST DRY system also aids in the prevention of mildew, rug rot, and associated odors.

For ease of use and maneuverability, the upholstery carpet shampooers are sold with 6.1 meters of solution hose and 6.1 meters of vacuum hose. Each of the machines ships with a 10.2 cm, jet-equipped upholstery wand.

The new upholstery carpet cleaners are available to customers in most countries and minimum orders apply. For additional information about Daimer® carpet cleaning machines, carpet cleaning equipment or best carpet cleaner systems for large institutions, visit www.daimer.com/carpet-cleaner/ or call Matthew Baratta at (888) 507-2220.

About Daimer Industries, Inc.®: Daimer®, www.daimer.com, is a major supplier and worldwide exporter of the cleaning industry's leading line of KleenJet® steam cleaners/vapor steam cleaners/steam cleaning equipment; Super Max(TM) commercial and industrial pressure washers, including cold water, hot water, and steam pressure washing machines; and XTreme Power® floor cleaners, including carpet cleaners and hard surface cleaners.

More from Cleaning Products & Equipment