Upgraded Model 905-18 Feeder is Manufactured in 304 Stainless Steel Material
Press Release Summary: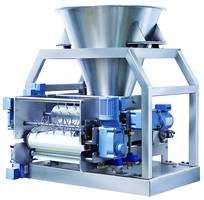 Acrison's Model 905-18 Volumetric Feeder is suitable for metering strand-type materials ranging from 0.4 to 0.75 in. lengths. The feeder consists of 5 cu-ft supply hopper for reliable product flow onto metering/conveyor belt. Unit's conveyor and metering belt operate in proportional relationship and are powered by variable speed gearmotors. The rotating dispersing mechanism of the feeder provides uniform flow of material off the belt.
---
Original Press Release:
Enhanced Acrison Model 905-18 Volumetric Feeder Specifically Designed to Meter "Strand-Type" Materials Including Products That Contain Small Amounts of Moisture
Acrison, Inc., an innovative global leader in dry solids metering and handling technologies for over 50 years, now offers an enhanced version of the Model 905-14 Feeder that is specifically designed to meter "strand-type" materials that contain small amounts of moisture, such as fiberglass, in lengths ranging from 0.4 to 0.75 inches.
An integral, specially designed 5 cubic foot supply hopper ensures reliable product flow into a uniquely configured distribution trough and onto a slow-moving metering/conveyor belt where two pile depth control and leveling mechanisms produce a consistent depth and width of material on the belt. Both the metering/conveyor belt and the two leveling mechanisms operate independently in a proportional relationship to each other that is powered by heavy-duty variable speed gearmotors. In addition, a rotating dispersing mechanism, operating at the discharge end of the belt, produces a uniform flow of material off of the belt. The output feed rate is controlled by the speed of the belt.
Gravimetric metering is obtained by utilizing the Model 905-18 Feeder as the metering mechanism of an Acrison Model 402 'Weight-Loss' weighing system.
The entire feeder assembly is manufactured in 304 stainless steel, including the feeder's supply hopper. The feeder is completely self-emptying, very easy to clean, requires minimal maintenance, and is virtually silent when operating. Controls are furnished in a NEMA 12 enclosure.
For more information, call 201-440-8300; Fax: 201-440-4939, E-mail: informail@acrison.com, or visit www.acrison.com.
CONTACT:
TERRY SHAW
ACRISON, INC.
201-440-8300
More from Communication Systems & Equipment