Up to Eight Displays Put the APC 620 at the Top of its Class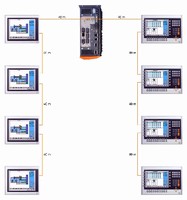 New generations of machines often require new concepts in the area of visualization. With the Automation PC 620 and corresponding Automation Panel, B&R offers an innovative system for remote I/O stations.

B&R has integrated the Smart Display Link in the APC620 for industrial applications. This allows the transfer of all communication channels (display, touch screen, matrix keys, LED and service data) at a distance up to 40 m using one cable. USB transfer is also supported. Machine data can therefore be exchanged locally right on the panel e.g. via USB memory stick.

B&R has also expanded the functionality of the Smart Display Link. An additional four panels displaying the same picture content can also be connected to the first Automation Panel. 40 meters separate each panel, allowing the fourth panel to be operated at a distance of up to 160 meters from the APC620.

The APC620 makes it possible to connect an additional line with four more Automation Panels. These panels display different picture content than the panels in the first line (dual independent display). The Smart Display Link is also used for this connection. Alternatively, the same picture content can also be displayed on all eight Automation Panels (display clones). This enables the APC620 to provide maximum flexibility for industrial applications.

More from Architectural & Civil Engineering Products