Unmanned, Heavy-Duty Parking Barrier Gate is RFID-enabled.
Press Release Summary: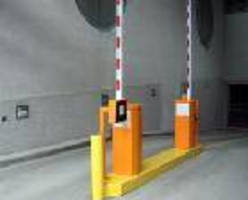 Used in conjunction with GAO RFID readers, tags, and antennas, GAO410004 safely controls vehicle access in medium- to high-traffic applications as well as those with wide lane (10-20 ft) management requirements. It withstands harsh environments and opens fully in 1-4 sec, depending on length of arm. Built-in frequency converter ensures progressive accelerations and controlled decelerations for vibration-free movement and protection of mechanism.
---
Original Press Release:

RFID Enabled Parking Barrier Gate from GAO



Toronto, Canada - GAO RFID Inc. (www.GAORFID.com) offers a its heavy-duty and a , high performance parking barrier gate (GAO410004) which it's isis used for in medium to high traffic applications and it's isis also suitable for wide lane management. It The parking barrier is an ideal solution for apartments and condos, gated communities, business parking lots and garages, university parking areas and recreation operations from hotels to RV camps.

GAO's parking barrier gate is used in conjunction with GAO's RFID readers, tags and antennas. It offers speedy operations even for large capacity industrial facilities and it can withstand harsh environments. The cost-effective, unmanned parking barrier gate safely controls vehicle access for 10 to 20 foot lanes. It offers a quick response time and it fully opens in one to four seconds, depending on the length of the arm. In addition, it's built-in frequency converter ensures progressive accelerations and controlled decelerations, for a vibration-free movement and enhanced protection of the mechanism.

For more information about GAO'S parking barrier gate, please visit www.GAORFID.com or contact Sales@GAORFID.com.

About GAO RFID Inc.
GAO RFID Inc. is a leading provider of Radio Frequency Identification (RFID), hardware and solutions for to end final worlwide users worldwide. GAO RFID combines the best variety of breed with low cost for RFID readers, RFID tags and enabling-RFID software. GAO, also, offers a wide variety of RFID readers, in tags and antennas for in all the RFID technologies, Low Frequency (LF), High Frequency (HF), Ultra High Frequency (UHF, Gen 2) as well as Active and Semi-Passive. GAO RFID's products and services are easily customized for using use in asset tracking, healthcare, supply chain & logistics, and event management, access control, livestock tracking, inventory control & management, field service maintenance and document authentication.

For more information please visit www.GAORFID.com

GAO RFID Inc. is a member of GAO Group, which also includes
GAO Tek Inc. - www.GAOTek.com
GAO Research Inc. - www.GAOResearch.com
GAO RFID Asset Tracking - www.GAORFIDAssetTracking.com
GAO Embedded - www.GAOEmbedded.com
GAO Instruments - www.GAOInstruments.com
GAO Comm - www.GAOComm.com
GAO Fiber Optics - www.GAOFiberOptics.com

More from Materials