UNIX® Workstation offers PowerPC technology.
Press Release Summary: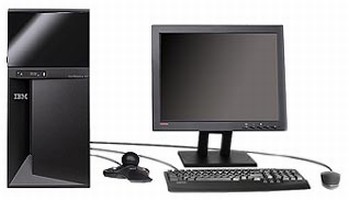 IntelliStation® POWER(TM) 185 workstation, designed for CATIA v4 and v5 users, comes in deskside package and is available with one- or two-way, 2.5 GHz PowerPC® 970 processor with 1 MB of L2 cache per processor. Along with 512 MB base memory, expandable to 8 GB, system contains 3 internal 3.5 in. disk drive bays and two 5.25 in. media bays. Other integrated features include 4 PCI-X slots and one PCI slot, dual 10/100/1000 Ethernet, 4 USB ports, and 2 serial ports.
---
Original Press Release:

IBM IntelliStation POWER 185 offers PowerPC Technology in a UNIX Workstation



At a glance

The IntelliStation POWER 185 workstation offers:
Outstanding value for entry UNIX or Linux workstations
Low price for CATIA V4 and CATIA V5 customers
One-way or two-way 2.5 GHz PowerPC 970 processors
A quiet deskside form factor
An excellent option for price sensitive customers
IBM Director (included with the system)
Three DASD bays for 3.5-inch disk drives accommodating 900 GB of internal disk storage
Two media bays for DVD-ROM, DVD-RAM, or tape

For ordering, contact:
Your IBM representative, an IBM Business Partner, or IBM Americas Call Centers at 800-IBM-CALL (Reference: YE001).

Overview
The IntelliStation® POWER(TM) 185 workstation (7047-185) is designed for CATIA V4 and V5 customers who have outgrown their current workstation. The POWER 185 is a UNIX® workstation that can help improve design engineer productivity at an affordable price. It is also an excellent choice for software development or support environments and can be used with other MCAD and CAE applications that require advanced 3D graphics.

The POWER 185 workstation comes in a deskside package and is available with either a one-way or two-way 2.5 GHz PowerPC® 970 processor with 1 MB of L2 cache per processor.

The POWER 185 workstation has a base memory of 512 MB, expandable to 8 GB. The system contains three internal 3.5-inch disk drive bays and two 5.25-inch media bays. The media bays can contain a DVD-ROM, DVD-RAM, or tape drive.

Other integrated features include:
Two PCI-X, 64-bit, 133 MHz slots
Two PCI-X, 64-bit, 100 MHz slots
One PCI, 32-bit, 33 MHz slot
Integrated controllers and ports
Dual 10/100/1000 Ethernet (one controller with two ports)
Ultra320 SCSI controller (internal and external ports)
Four USB ports (two front/two rear)
Two serial ports
The POWER 185 workstation is backed by a one-year warranty.

Key prerequisites
If installing AIX® on the system, select one of the following:
AIX 5L(TM) for POWER V5.2 with the 5200-08 Technology Level (APAR IY77270), or later AIX 5L for POWER V5.3 with the 5300-04 Technology Level (APAR IY77273), or later

If installing Linux(TM) on the system, select one of the following:
SUSE Linux Enterprise Server 9 SP3 for POWER, or later
Red Hat Enterprise Linux AS 4 U3 for POWER, or later

Planned availability date
February 24, 2006

More from Cleaning Products & Equipment