University of Pécs Adopts ZW3D CAD/CAM for Medical Innovations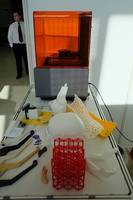 GUANGZHOU, CHINA - March 20th 2018 - ZW3D, one of the world's leading suppliers of advanced CAD/CAM solutions for the manufacturing industry, announced the donation of its flagship product ZW3D 2018 to the University of Pécs(PTE) in Hungary, which will be used in 3D medical engineering model by the university's 3D Project Group.
The University of Pécs (PTE) was found in 1367 as the first university of Hungary and one of the top technology institutions in Europe. Within the core of PTE, the Medical School endeavors to pioneer innovations in medical research, and has therefore created the 3D Project Group.
An Up-and-Coming Group Needs Help
3D Project Group, the newly formed 3D print facility, fully understands that 3D print technology will significantly alter the activities in engineering, health and arts.
To put 3D printing technology into medical practice, the group realizes the urgency to find a suitable 3D CAD/CAM solution. ZW3D offers powerful design tools and an easy-to-use reverse engineering module, which enables students to have an intuitive view of how their innovative works apply in the real world.
Walk Before You Run
Now, the Group uses ZW3D to design emulational organ parts (like bones, teeth) and their silicon molds in rehabilitation equipment, with flexible Solid-Surface Hybrid Modeling.
Moreover, the Group is trying to carry out the tasks from 3D mesh modeling (such as STL/point cloud data) to 3D CAD modeling through ZW3D built-in reverse engineering features.
"Many thanks to the ZW3D team and their timely local service," noted Mendler János, Mechanical Engineer of 3D Project Group, "Since we later will have pure milling machines, 2-axis turning and 2-3-axis milling of ZW3D CAM will be important. Their continuous support will be very useful."
"We are happy that ZW3D can help them focus more on medical innovation, instead of getting bogged down in CAD using. We'll do everything we can to help," said Colin Lin, Director of ZW3D Department.
About University of Pécs
With 651 years' history, PTE has earned a prominent position in terms of international excellence. The entire institution and study programs took leading positions in highly recognized international rankings.
About ZW3D
ZW3D, an integrated CAD/CAM solution designed for the complete product development process, features the fastest kernel for Solid-surface Hybrid Modeling, non-solid mold parting and smart CNC Machining tactics from 2-axis to 5-axis.
Related