Universal Showcases Surface Mount and Odd-Form Capabilities at IPC APEX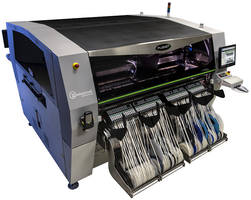 Complementary portfolio delivers unmatched flexibility and performance for unique requirements.
Universal Instruments will feature flexible surface mount, odd-form and automation platform solutions at the 2017 IPC APEX EXPO held at the San Diego Convention Center on February 27 – March 1. On booth 3141, Universal will demonstrate its FuzionOF™ high-speed automation platform, extra-capacity FuzionXC2-37™ Platform and Uflex™ modular automation platform.
Fuzion solutions deliver industry-best cost per placement, flexibility and accuracy. The Fuzion® Platform lineup includes single, dual, and quad-beam variants with throughput up to 140K cph per module. Featured on the booth, the FuzionXC2-37 utilizes 272 feeder inputs to accommodate multiple products and flexible feeder setups, thereby streamlining or eliminating changeovers. FuzionXC2-37 also handles a full range of input types and large boards up to 1300mm x 610mm.
Also on the booth, FuzionOF is the fastest and most versatile automation platform, placing a full range of standard surface mount and non-traditional components up to 150mm square and 40mm tall, with 5kg placement force. With the most complete range of component handling and input types, a wide variety of standard tooling, and custom design and implementation services, FuzionOF addresses virtually any odd-form application.
Universal will also display the Uflex flexible automation platform on the booth. Uflex is the ultimate odd-form placement machine, and is perfect for replacing manual assembly processes for non-standard components. Uflex supports large boards up to 630mm x 500mm and components up to 38mm x 127mm x 50mm high, and is easily reconfigured for changing applications.
This year at APEX, Universal will participate in the IPC CFX Showcase. CFX (Connected Factory Exchange) is a proposed standard for "plug and play", omni-directional IoT data exchange. This initiative will introduce CFX to a wider group in the industry, show its differentiation and value, and help to drive mass adoption of CFX as a true IoT standard. IPC APEX EXPO visitors will be encouraged to scan a QR code to experience the CFX Connected Factory Showfloor and take part in the world's first standards-based, multi-vendor IoT electronics manufacturing network by accessing data from all CFX-enabled machines on the show floor.
The CFX Showcase will also highlight industry thought leadership by participating companies. As a CFX vendor, Universal will invite booth visitors to scan a QR Code in order to monitor the equipment on the booth and view machine data nearly instantly.
"We're ecstatic to be taking part in the IPC CFX Showcase at this year's APEX show," said Universal Instruments Vice President of Marketing, Glenn Farris. "IPC is embracing Industry 4.0 and packaging it in such a way that show visitors can experience it first-hand. It's great to be contributing to the first ever real multi-vendor IoT standard in actual use and we're absolutely looking forward to it."
To learn more about Universal's solutions for any electronics manufacturing challenge, contact Universal Instruments at +1-800-432-2607 or +1-607-779-7522 or visit www.uic.com.
About Universal Instruments
Universal Instruments is a global leader in the design and manufacture of advanced automation and assembly equipment solutions for the electronics manufacturing industry. Universal Instruments delivers comprehensive solutions to a global customer base by leveraging exclusive process expertise combined with its innovative portfolio of flexible platforms for surface mount, insertion mount, advanced semiconductor packaging, and end-of-line automation. Universal Instruments is headquartered in Conklin, N.Y., USA, with offices in Europe, Asia and the Americas.