Universal Network Controller supports PC/104 expansion.
Press Release Summary: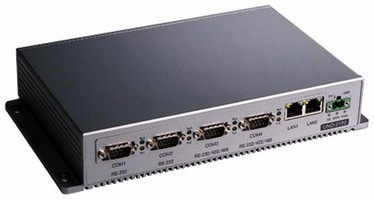 Powered by fanless 1 GHz Celeron M or 600 MHz Celeron CPU, UNO-2170 offers connectivity via 4 serial ports (2 RS-232 and 2 RS-232/422/485), two 10/100 base Ethernet ports, and 2 USB 2.0 ports. Unit operates with Windows XP Embedded, Windows CE .NET, and Linux operating systems. Along with 512 KB battery backup SRAM and 256 or 512 MB DDR DRAM, controller incorporates LM sensor that can retrieve CPU and core temperature for monitoring purposes.
---
Original Press Release:
Advantech Launches Celeron M 1GHz Universal Network Controller with PC/104 Expansion
The UNO-2170 is a Universal Network Controller starting at $890 (Cincinnati, Ohio - 01/25/2006) - The Industrial Automation Group of Advantech introduces the UNO-2170. The UNO-2170 is a high-performance Celeron M grade PC-Based controller that supports PC/104 expansion, four serial ports, two Ethernet ports, two USB ports, as well as many other interfaces. The UNO-2170 supports Windows XP Embedded, Windows CE .NET, and Linux operating systems. The UNO-2170 features include: a fanless Celeron M 1GHz or Celeron 600 Mhz CPU, 512 KB battery backup SRAM, 256 MB or 512 MB DDR DRAM, LM sensor which can retrieve CPU and core temperature for monitoring purposes, two RS-232 and two RS-232/422/485 ports with automatic flow control, two 10/100 base Ethernet ports, two USB 2.0 ports and one type I/II PC card, PC/104 extension, optional Windows CE .NET, or Windows XP Embedded (SP2) with enhanced write filter (EWF) protection. The UNO-2170 starts at $890 and is available for purchase directly from Advantech at 1-800-205-7940 or from one of Advantech's North American distributors at eautomationpro.com/us. Advantech Corporation, Industrial Automation Group - Founded in 1983, the Industrial Automation Group of Advantech Corporation is the only complete PC-based Industrial Automation Solution Manufacturer offering products such as Industrial PCs, Workstations, Panel PCs, Flat Panel Monitors, Heavy Environmental PCs, Customized PCs, Single Board Computers, Data Acquisition & Control Devices and Web-enabled products for a wide array of industries. Drawing on the talents of more than 1,800 people, Advantech operates an extensive sales and marketing network in 16 countries and 35 major cities to deliver fast time-to-market services to our worldwide customers. Today Advantech offers over 700 products and solutions, adding 30 new products each year. US operations for the Industrial Automation Group are based in Cincinnati, OH (877-294-8989). Advantech Corporation, Industrial Automation Group, 1320 Kemper Meadow Drive, Suite 500, Cincinnati, OH 45240. Website for Advantech customer's in North America: eautomationpro.com/us. Email: mailto:info@advantech.com Chuck Harrell Advantech Corporation, Industrial Automation Group (513) 742-8895 x333 website: eautomationpro.com/us
More from Laboratory and Research Supplies and Equipment