Universal Modular Fuse Is Now Approved Up To 10 A By VDE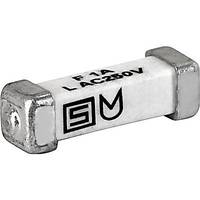 Santa Rosa, California, July 07, 2020 – SCHURTER announces VDE approval for its 10 A Universal Modular Fuse, UMF 250, according to IEC 60127-7/1.  Offered with fifteen rated currents, 500 mA to 15 A, the quick-acting SMD fuse was previously approved by VDE up to 8 A. The complete range is also cURus approved according to UL 248-14 and CSA22.  
An ideal alternative to traditional 5x20 mm cartridge fuses, the compact 3 x 10.1 mm SMD fuse is rated for voltages up to 250 VAC and 125 VDC, with a breaking capacity up to 200 A depending on current rating. The fuse exhibits a very low internal resistance, which provides overcurrent and short circuit protection in primary and secondary circuits for a wide range of applications, including battery management systems, medical equipment, lighting systems and power supplies. Additionally, the UMF 250 is impermeable to conformal coatings, making it suited for use in intrinsically safe applications, such as those complying with ATEX and IECEx requirements.
The UMF 250 series is halogen-free, conforms to RoHS and is compatible with lead-free soldering processes. Packaging is in 100 pieces bulk or in 2000-piece reels. Pricing starts at $0.55 each for a 2K reel.  Link to datasheet UMF 250. For sales and product information, contact Cora Umlauf at (800) 848 -2600 or by email at info.sinc@schurter.com.   
About SCHURTER Inc.
The SCHURTER Group is the world's leading Swiss technology company providing components and complex solutions that ensure safe power supply and simplified equipment operation. The company's professional competence, financial independence, innovative strength and distinctive corporate culture, propel the SCHURTER Group, together with its customers and partners, into the digital future. The safe&easy brand claim not only refers to the products, but also the company's business philosophy, which strives for sustainable success through innovation, high-quality products and service, flexibility and proximity to customers.
SCHURTER is known globally as an innovator, manufacturer and distributor of fuses, connectors, circuit breakers, switches, EMC products, and input systems. Touch screens and touch panels, capacitive sensor keypads, membrane keypads and housing systems are developed in close cooperation with its customers. Within its business unit Solutions, SCHURTER combines all competencies and puts them at the customer's disposal. SCHURTER products and solutions are developed especially for specific industry segments – medical, data and communication, automotive, avionics & space, energy and the broader industrial market. SCHURTER considers the quality of its products and services as the key factor to the company's lasting success. Its management and improvement processes are designed and certified according to ISO 9001, ISO 13485, ISO 14001, ISO 45001 and IATF 16949, using the EFQM and Baldrige Excellence Models, as well as the application of Lean Management principles such as Value Stream Planning, Power Innovation, SSO, and Six Sigma.
SCHURTER Inc., Santa Rosa, California is the exclusive North America sales and distribution office for the SCHURTER Group.
Contact This Company Download Spec Sheet
More from Controls & Controllers