Universal Milling Glovebox for Multiple Mill Systems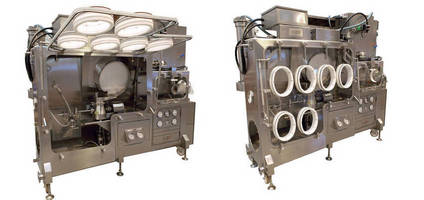 PSL's multiple mill isolator can accommodate different mills in a single glovebox. Specially designed L-shape window glovebox for inert milling provides product and operator protection. Exhibiting at Interphex New York, 18-20 March 2014 – Booth 2232.



Powder Systems Ltd's (PSL's) universal Milling Isolator is the optimum solution when multiple mills, micronizers or air jet mills are required for a single product or process. PSL's Milling Isolator fulfills laboratory to complete facility requirements for manufacturing formulation of fine particle sizes.



PSL provide full operator protection through high containment to nanograms level and a controlled safe environment whilst performing size reduction of active ingredients. Due to the explosive nature of milling and micronizing, an assured explosion protection system is fully integrated into the design, with PSL's nitrogen purge systems able to achieve less than 1% RH.



The Universal Multiple Mill Glovebox offers the advantage of a nitrogen-purged environment, nanogram containment, a small area to clean and better control over cross-contamination. Multiple drum size can be integrated using the drum list hoist system and pneumatic sealed docking.



The Glovebox features a unique 'L' shaped window with good access for changing, stripping and cleaning mills within the glovebox. Where traditional gloveboxes would have upper and lower windows with a seam obscuring a critical point, PSL's Milling Isolator features a lift-up window for enhanced viewing and ergonomics.



Multiple types of mill can be integrated such as comil, pin mill, jet mill… using the same glovebox. The mills are fitted onto a skid and replace from the back of the isolator.



PSL solutions for milling and micronizing include:

• Multiple types of integrated feeder

• Mill and micronizer control including pressure balancing

• Product collection

• Clean-in-place (CIP) system

• Fully PLC controlled via the HMI

• Variety of container size inputs and outputs

• Dust collectors

• Inert milling for product and operator protection

• Particle analysis

• PSL qualified UL panel builder

• External drive systems eliminating cross contamination of motors



PSL has extensive global experience in contained milling and is an original pioneer of high containment technology. PSL has been established for 25 years and provides a full range of high containment solutions for applications including: dispensing and sampling, charging, drum filling, off-loading, sieving and tray drying.



Visit PSL's website for more information on their contained process solutions' product range at www.powdersystems.com and remember to visit our stand at Interphex New York, 18-20 March 2014 – Booth 2232



Company information:

Powder Systems Limited

+44 (0)151 448 7700

www.powdersystems.com

info@powdersystems.com



PSL contact:

Chris Thomas 

chris.thomas@powdersystems.com 

+44 (0)151 448 7753



Hyperlinks:

Interphex New York, 18-20 March 2014 – Booth 2232

Links to; http://int14.mapyourshow.com/5_0/exhibitor_details.cfm?exhid=394669



About PSL



Powder Systems Limited is an international manufacturer of filtration, drying and high containment solutions. We have been supporting pharmaceutical, biopharmaceutical, chemical and laboratory industries since 1989.



Our experienced engineering teams work closely with our in-house chemists to accelerate process development and create the most suitable and ergonomic solutions.



PSL's established supply chain management ensures all components, sourced from across the globe, are of the highest quality and value. This enables market savings to be passed directly onto our customers.



We continue to increase our number of global offices, agents and distributors to aid the smooth distribution of equipment to any part of the world. With offices in USA, UK, France, Czech Republic, India, Japan and our newly opened PSL Australia. Based in Perth and servicing the Asia Pacific region.



Our products enable major blue-chip companies including the top 10 pharmaceutical organisations such as Pfizer, GSK, BMS and Sanofi to bring new generation drugs into the market place faster, using the latest technology in containment and production equipment.



More from Cleaning Products & Equipment