Universal Meter is configurable to variety of adaptations.
Press Release Summary: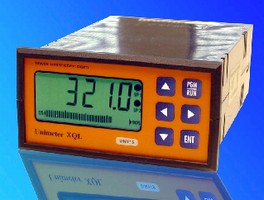 Featuring built-in math capabilities, UNIMETER XQL is suited for use as data logger, process controller, display-meter, and bargraph. Direct or remote connection to PCs for SCADA applications allows management of process environment. When used as data logger, unit stores last 10,500 readings in circular buffer for downloading to spreadsheet. User-selectable options include dual signal inputs, sample-and-hold interface, and programmable current and voltage retransmission outputs.
---
Original Press Release:


Universal Measurement, Display and Control Meter - User-configurable to Hundreds of Adaptations!




Pittsford, NY. UNIMETER XQL is a user- programmable universal instrument for use as a data logger, process controller, display-meter, and bargraph, with sophisticated built-in math capabilities. Offering literally hundreds of functions and options in a single instrument, UNIMETER XQL can be configured to an enormous range of tasks, reducing factory and system inventories.

The invention of world-leading, auto- calibrating 'QUADAC'16-bit converter technology has made it possible to combine all measurement and control functions in a single instrument to provide user selectable solutions for almost every problem. For instance, process conversion, indication and control are all possible with UNIMETER XQL. Direct or remote connection to PCs for SCADA applications allows direct management of the process environment. UNIMETER XQL has a complete and comprehensive range of user selectable hardware options, including dual signal inputs, sample- and-hold interface, programmable current and voltage retransmission outputs, user selectable precision power supply, RS 485 serial interface port, configurable front-panel buttons, process reset terminals, two user programmable isolated relay set- points, dual supply voltage and constant current output source. Beyond hundreds of standard functions, UNIMETER XQL provides a substantial range of complex functions such as auto- tune PID control, 100-point linearization, peak and valley memory and display, maximum demand control, dual input functions with A*B, A/B, A+B, A-B, largest of A and B, average of A and B, 100 point profile control, function generation, PLC interface, batch control with batch count......and many, many more.

As a data logger, compact 6" x 4" x 2" UNIMETER XQL will store the last 10,500 readings in a circular buffer ready for downloading to a spreadsheet. UNIMETER XQL's analog bargraph display shows output control level. The backlit 5 digit LCD (0.00 to +/-19 999 floating point) makes process monitoring very precise. Additionally available Special Functions include full scale span and auto offset adjustment, auto-tare options, hot-key program functions, retransmission level control, set- point inversion and delay adjustment, keyboard disable control, factory reset, rotating LED sign interface, digital filter options, user average programmability, baud-rate selection, and many more.

A comprehensive range of optional software is available to provide the user with all options to remotely manage and adjust any process control situation. A simple two wire 'daisy chain' system makes it easy to collect any production variable for recording and analytical purposes. UniLink SCADA can be employed for the advanced plant management and process evaluation.

Made in Australia by Autoplex Pty, UNIMETER XQL is priced from only $399 - available now from stock from Saelig Co. Inc. Pittsford NY. info@saelig.com www.saelig.com 1-888-7SAELIG.

Direct Link: www.saelig.com/pr/unimeterxql.htm

Contact Information
email: info@saelig.com
phone / fax: 585-385-1750 / 585-385-1768
web: www.saelig.com


More from Computer Hardware & Peripherals