Universal / Constant Velocity Joints
Universal Joint meets/exceeds MIL-J-6193 specification.
Press Release Summary: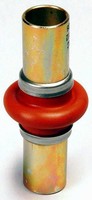 Requiring minimal in-field maintenance, heavy-duty MS 271 military standard universal joints withstand demanding operating conditions and harsh working environments. Products meet or exceed requirements of military specification MIL-J-6193 and are suited for government/military and aerospace applications. Pin and block design can be modified into materials such as aircraft 17-5 and 15-5 as well as marine-grade 316 and 316L stainless steel for use in extreme corrosive environments.
---
Original Press Release:

Belden Military Standard Universal Joint - Meets and Exceeds Military Specification MIL-J-6193



Broadview (Chicago), Illinois, July 2006. Belden Inc.'s complete line of universal joints and shaft assemblies include a full range of military certified universal joints used in auto racing/gear change linkage, military personnel carriers and aerospace applications. These universal joints are specifically designed and precisely manufactured for a variety of applications including high lift actuation and control mechanisms for aircraft where low deflection rates, high strength to weight ratios and long service life are essential.

The heavy-duty MS 271 military standard universal joints have undergone qualification and acceptance testing by a testing lab and the U.S. Department of Defense. The MS joints meet or exceed the requirements of military specification MIL-J-6193. To qualify the universal joints, a variety of extensive and rigorous testing was completed. Reaction frames were designed and fabricated to perform torsional play, tightness, static torque, endurance and lubrication retention tests. The Belden military standard universal joint is manufactured to withstand the most demanding operating conditions, harsh working environments and requires little maintenance in the field.

The Belden MS series of universal joints have become the industry standard. The MS design that is mandated for all government/military and aerospace applications is also utilized in performance and NASCAR racing. The military standard joint's high strength pin and block design can be modified into various materials such as aircraft 17-5 and 15-5 and marine grade 316 and 316L stainless steel to outperform other pin and block style universal joints in extreme corrosive environments.

Company information:
Belden Inc., located in Broadview, Illinois, near Chicago, focuses on special-purpose universal joints and drive shaft assemblies made exclusively to customers' exact specifications. Unique manufacturing processes give Belden the flexibility to produce small batches economically and made-to-order custom parts just as cost-effectively as high volume standard universal joints. Belden supplies an extensive line of high quality, precision-engineered universal joints with complete shaft assemblies as well as couplings for a wide range of applications. Applications include steering and shift linkage assemblies for race cars as well as industrial and off-road vehicles, aerospace, packaging and conveying equipment, food processing equipment, steel roll forming and leveling equipment, machine tools, woodworking equipment for the furniture industry and OEM machine tools.

Contact:
Belden Inc.
2500 Braga Drive
Broadview, Illinois 60155
Tel.: 708 344 4600
Fax: 708 344 0245
E-mail: info@beldenuniversal.com
Internet: www.beldenuniversal.com

More from Controls & Controllers