Universal ID Cylindrical Grinder handles long workpieces.
Press Release Summary: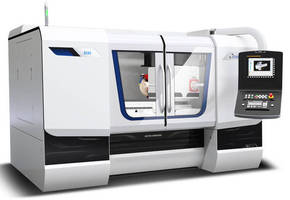 Offered in 3 sizes to machine workpieces with max lengths of 11.81, 27.56, and 51.18 in. and IDs up to 9.84 in., STUDER S141 employs grinding spindle turret that accommodates up to 4 grinding spindles; universal measuring probe; and internal grinding quills in lengths up to 10.433 in. With direct-drive integrated swivel axis and high-resolution measuring system, turret rotates/positions with repeatability of <1 angular sec. Workhead can be direct or belt driven.
---
Original Press Release:

New STUDER S141 Goes Long for Internal Cylindrical Grinding



MIAMISBURG, Ohio — UNITED GRINDING recently introduced the new STUDER S141 universal I.D. cylindrical grinding machine that offers the ability to internally grind longer workpieces common to the machine tool, drive element, aerospace and toolmaking industries. The S141 combines both cutting edge and proven technologies with optimal ergonomics and ease of use, while delivering dependability, quality and precision.



The S141 features two big sliding doors for optimum accessibility and is available in three different design sizes to machine workpieces with maximum lengths of 11.81" (300 mm), 27.56" (700 mm) and 51.18" (1,300 mm) and inside diameters up to 9.84" (250 mm). These grinding capacities make the S141 ideal for processing chuck components, spindle shafts, spindle housings, rotor shafts and other such parts.



The S141's grinding spindle turret accommodates up to four grinding spindles (including a maximum of two external grinding spindles), a universal measuring probe and internal grinding quills in lengths up to 10.433" (265 mm). This allows both internal and external machining of workpieces in the same clamping, minimizes non-cut times and boosts part accuracy. With a direct-drive integrated swivel axis and high-resolution measuring system, the turret rotates/positions quickly and precisely for a repeatability of less than one angular second.



In addition to a workhead that can be direct or belt driven, the S141's workpiece table automatically swivels from -10 to +20 degrees via the machine control for axis parallel grinding of tapers. Up to two pivoting dressing units for fixed or rotating dressing tools mount on the machine and ensure the grinding wheels stay sharp throughout the machining operations to provide maximum performance and process stability.



The S141 features a machine bed made of patented Granitan® S103 mineral casting that dampens vibration and provides excellent thermal stability for superior surface quality and workpiece accuracy. The machine also incorporates the StuderGuide® system for its X and Z axes. They are coated with Granitan S200 wear-restistant guideway surfacing material for the highest precision and load bearing capacity as well as strong damping across the machine's entire speed range.



With its ergonomic and user-friendly design, the S141 changes over in the shortest times possible and is easily reprogramed. The machine's 31i – B series Fanuc Control with integrated PC and a 15" touch screen facilitates intuitive operation. Two different operating systems – StuderWIN and StuderSIM – are available and suitable for a wide variety of internal grinding applications, dressing and process-supporting measurement.



About United Grinding North America, Inc.

UNITED GRINDING North America, Inc. is the subsidiary for the North American market, with two production plants of 16,732 sq-ft space in Miamisburg, Ohio and 16,732 sq-ft in Fredericksburg, Virginia and over 155 employees around North America. Apart from its production plants in the U.S., it runs an additional sales and service office in Querétaro, Mexico. UNITED GRINDING North America occupies a leading position in the North American grinding machine tool market by offering innovative products in the technology areas of surface & profile grinding, cylindrical grinding and tool grinding. With a wide range of products, application know how from a single source and a high level of innovation capabilities, the customers enjoy the benefits in terms of efficiency, quality and reliability of its products. For more information, please visit www.grinding.com.



Sarah Knight

Public Relations Manager

dgs Marketing Engineers

317.813.2224 Direct

317.813.2222 Main

Web: www.dgsmarketing.com

Blog: www.dgsmarketingengineers.com/blog



About dgs Marketing Engineers

dgs Marketing Engineers offers advertising, public relations, and other marketing services to companies targeting technically minded individuals.

More from Fasteners & Hardware