Circuit Board Assembly Services
Universal Electronics Sees Significant Growth in Flex Circuit Demand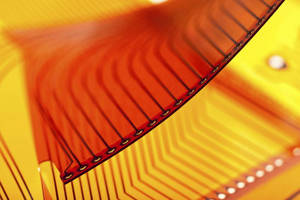 WHITEWATER, Wis. - Flexible circuit board use is on the rise, driven by the demand for increased design flexibility, smaller packaging and products that are lighter and thinner. Flexible circuitry use also eliminates connection points, which simplifies assembly and reduces the chance for human error or interconnect defects.

Universal Electronics has significant experience working with flex circuits, putting these advantages to work for customers. The company has seen demand grow at a rate of close to 20-percent quarterly over the last year. "We see flex circuits as a significant area for growth within printed circuit boards," said Stuart Scholz, engineering manager at Universal Electronics in Whitewater, Wisconsin.

With package sizes getting smaller and more complex, design teams are constantly challenged with applications where electrical connections are required in multiple axes, or flex during normal use. In this dynamic space it takes a strong and robust supply chain to ensure cost targets are met, along with a proven electronics manufacturing background to produce quality product and meet demanding delivery schedules.

UEI is well positioned to meet the growing demand for flexible circuit manufacturing, and has invested over $2 million in new equipment over the past year to increase its capacity and capabilities. The company offers extensive resources at all levels of engineering.

UEI has been advancing manufacturing technologies and delivering on its mission to be the leading provider of electronics contract manufacturing and services since 1980. The company offers more than 130,000 sq/ft of state-of-the-art electronics manufacturing at its two facilities in Wisconsin.

Learn more and watch a brief company overview video at www.ueinc.com, or contact info@ueinc.com.

About UEI Founded in 1980, UEI is a privately held ISO 9001/13485 and ITAR registered full service electronics contract manufacturer. With over three decades of manufacturing excellence, UEI has become the leading provider of contract manufacturing services for many industries, including: Medical, Industrial-Commercial, Security, and Communications. UEI employs approximately 300 people at two state-of-the-art facilities in Wisconsin. Additional information about UEI and its services may be found at www.ueinc.com.


More from Fluid & Gas Flow Equipment