Miscellaneous Manufacturing Services
Universal Electronics Announces Additional Manufacturing Capacity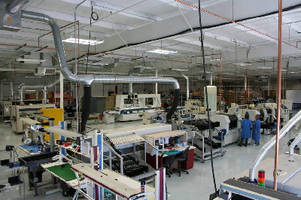 New printed circuit board equipment dramatically increases production SMT capacity

Whitewater, WIS. - Universal Electronics, Inc. (UEI) has increased its RoHS compliant printed circuit board and higher-level assembly electronics manufacturing capabilities with the addition of new capital equipment for its manufacturing facilities in Whitewater and East Troy, Wisconsin.

The new high-speed automated SMT equipment includes a DEK wide body printer, Universal Instruments Genesis SMT chipshooter, and Yestech Automated Optical Inspection.

Over the past year UEI has added over 70 employees, built a new facility in East Troy, WI, upgraded current SMT lines to the latest technology, and added additional equipment to run two new high-tech circuit board lines. According to Travis Grob, UEI VP of Operations, "With the increased capacity of seven SMT lines now at two facilities, we have dramatically increased our ability to meet the growing and time-sensitive demands of the electronics contract manufacturing market and to offer the flexibility needed today to ensure our customers' success."

UEI's two ISO9001/13485 and ITAR-approved manufacturing facilities in the upper Midwest offer flexible engagement models and fast, cost-effective time to market strategies. With a tightly managed supply chain, UEI provides quick-turn prototyping, a proven NPI model, and customized ramp-to-volume strategies.

UEI serves multiple industries including Medical, Industrial-Commercial, Security, and Communications and has been advancing manufacturing technologies and delivering on its mission to be the leading provider of electronics contract manufacturing and services since 1980.

For more information, contact Ray Cottrell, VP of Sales and Marketing at sales@ueinc.com.

About UEI Founded in 1980, UEI is a privately held ISO 9001/13485 and ITAR registered full service electronics contract manufacturer. With over three decades of manufacturing excellence, UEI has become the leading provider of contract manufacturing services for many industries, including: Medical, Industrial-Commercial, Security, and Communications. UEI employs approximately 300 people at two state-of-the-art facilities in WI. Additional information about UEI and its services may be found at www.ueinc.com.


More from Mechanical Components and Assemblies