Universal Dock Levelers withstand heavy usage.
Press Release Summary: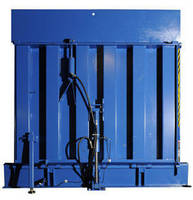 Offered in 4 rated capacities from 30,000-45,000 lb, U-Series is comprised of hydraulic, mechanical, and vertical models. Each universal dock, to withstand heavy use, features minimum of 6 U-beams welded at dynamic impact points on underside of deck. Single lip hinge pin enables strengthened and evenly distributed load, while continuous one-piece headboard intensifies strength of deck's front structure. To compensate for canted truck beds, products flex up to 4 in. under load.
---
Original Press Release:

Blue Giant Introduces the New U-Series Dock Leveler



Brampton, ON, Canada-Blue Giant Equipment Corporation introduces its new U-Series line of dock levelers. The U-Series dock levelers combine strength and simplicity of operation with versatility, and are available in rated capacities of 30,000, 35,000, 40,000, and 45,000 lbs (13,636, 15,909, 18,144, and 20,454 kgs).

"The U-Series dock is our universal dock that is suitable for all applications," confirms Jeff Miller, Vice President of Sales and Marketing at Blue Giant. "In keeping with our role as a dock products solutions provider, this new product is available in all models, including hydraulic, mechanical, and vertical applications. The U-Series will also be used in all our future advanced dock leveling packages. The U-Series dock levelers will serve as a blueprint for future product development."

Like all Blue Giant dock equipment, strength and durability form the foundation of the U-Series. The underside of the deck is supported by a minimum of six (6) U-beams welded at dynamic impact points, allowing the dock leveler to withstand heavy usage. A single lip hinge pin enables a stronger, evenly distributed load, and a continuous one-piece headboard intensifies the strength of the deck's front structure.

Gerard Biasutto, Director of Technical Development at Blue Giant, states that the U-Series comes standard with a fixed rear hinge. The deck will flex up to 4" (101mm) when under load to compensate for canted truck beds. Biasutto adds that an optional alternative for more demanding applications is assured motion float, a 4" (101mm) maintained deck tilt. This floating rear hinge configuration lets the dock leveler accommodate heavier loads without experiencing deck fatigue, and reduces the jarring motion that can cause back and neck injury in forklift drivers.

The U-Series was constructed with worker safety in mind. The fixed rear hinge remains flush with the floor during use, eliminating pinch points and cross-traffic obstructions. The hydraulic and vertical models have velocity fuses that limit free fall of a loaded platform to within 3"(76mm), reducing the risk of employee injury and damage to both cargo and dock equipment. Dual fall-safe legs on the mechanical model restrict free fall.

The mechanical dock's hold-down system features a friction disk brake and lifting strap rated at 6,500 lbs (2955 kgs). During loading and unloading, the disk brake enables the deck to seamlessly match the trailer height, minimizing cross-docking bounce. The increased contact surface with the disk brake creates even wear on the brake pads and results in greater hold while reducing maintenance requirements.

The hydraulic dock leveler comes standard with a single push button control station for sequenced deck and lip operation. The vertical storing units are operated by the Blue Genius(TM) Gold Series I Dock Control Panel, which is also an upgrade option for the hydraulic dock leveler.

The Blue Genius(TM) Touch Control Panels feature a multi-language LCD screen that provides clear, real-time instructions for safe dock equipment operation, maintenance, and diagnostics, as well as supervisory keypad override functions. This groundbreaking line of microprocessor-based controls has been drawing favorable comments from Blue Giant dealers since its April 2009 launch, primarily for its safe and efficient method of controlling multiple pieces of dock equipment in their proper sequence.

"Blue Genius(TM) Touch Control Panels feature an enhanced network communications bus that provides more reliable high-speed communications," explains Gregory Ion, Vice President of Engineering and Product Development, who developed the Blue Genius(TM) technology. "The control operates on 24 volts, and the panel is safeguarded against potential shock hazard when opened to ensure operator safety. For additional safety, the system features a power shut down and short circuit protection."

When combined with the Blue Genius(TM), the U-Series dock levelers make a powerful transition from standalone units to highly efficient loading dock systems. The U-Series is another example of Blue Giant's commitment to an ongoing introduction of advanced product and technology solutions that will enable safe and controlled loading dock operations worldwide.

About Blue Giant Equipment Corporation
Blue Giant is a global leader in the design, manufacture, and distribution of loading dock systems.

From a complete line that ranges from dock levelers, ground-level lifts, vehicle restraints, dock and door guards, door seals and shelters, and intelligent driver control and safety systems to a diverse offering of material handling products, Blue Giant dealers can offer turnkey solutions for the most demanding freight-handling needs.

World Class, World Wide is our commitment to being the world leader in loading docks systems, product technology, and dedicated customer support.

For more information, visit www.bluegiant.com or contact Mike Poeltl, Marketing Manager.

More from Material Processing