Universal Dimmer eliminates lamp flickering.
Press Release Summary: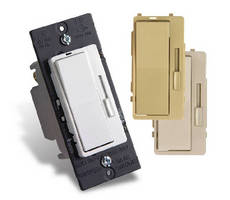 Compatible with all lamp types, Harmony™ Tru-Universal Dimmer features self-calibration function, which sets itself to lamp-type installed by user. Unit also has on/off decorator switch combined with separate slider for dimming control, and green LED that glows when dimmer is off. Dimmer works in single pole and 3-way applications and requires no derating for 1- and 2-gang installations. It is rated 700 W for Incandescent, Halogen, and ELVs; 500 VA for MLVs; 450 W for LED/CFL; and 5.5 A for EFLs.
---
Original Press Release:
Legrand Creates Bulb Harmony as It Launches Industry's Most Advanced Dimmer
SIMPLE TO USE UNIVERSAL DIMMER FOR ALMOST ANY BULB TYPE AT AN AFFORDABLE PRICE

SYRACUSE, N.Y. – Legrand, a leading provider of electrical wiring devices and home systems, today announced its Pass & Seymour® Harmony™ Tru-Universal Dimmer (Harmony Tru-Universal Dimmer). Compatible with all lamp types and simple to use, the Harmony Tru-Universal Dimmer's self-calibration feature is set to change the dimmer landscape for distributors, contractors and end users.

As lamp technology continues to rapidly evolve, there is confusion over which dimmer to use. This is proving to be a challenge, as different dimmers are recommended for different lamp types. Distributors and contractors who want to reduce inventory, increase productivity, and generally do more with less are finding this problematic. End users have to deal with flickering lamps and unsatisfactory light levels.

"The Harmony Tru-Universal Dimmer changes all of this," says Keith Falkenberg, marketing manager for Legrand Electrical Wiring Systems. "We have spent a significant amount of time researching the issues that distributors, contractors and end users have with the quickly changing lamp technology.  The Harmony Tru-Universal Dimmer now makes it easier for distributors to provide a dimmer that simply works. It also lets them manage and reduce their inventory, as they can replace as many as 30 current SKUs with one. Contractors can install with confidence and end users have a hassle-free experience.  It also brings added benefits of an extended lamp life and energy savings for all types of light sources."

The Harmony Tru-Universal Dimmer's self-calibration feature sets itself to the lamp-type installed by the end user. This feature makes it truly simple to use. Lamp flickering and poor performance are eliminated. For added convenience, it also has an on/off decorator switch combined with a separate slider for dimming control.  A green LED glows when the dimmer is off to make it easier to locate in the dark. The Harmony Tru-Universal Dimmer works in Single Pole and 3-Way applications and requires no derating for one- and two-gang installations. It is rated for a variety of loads, these include 700W for Incandescent, Halogen and ELVs, 500VA for MLVs, 450W for LED/CFL and 5.5A for EFLs.

The new dimmer comes with three interchangeable face colors ­ ivory, white and light almond ­ that are included in each package and its sleek, ergonomic P&S decorator style matches other decorator devices.  The Harmony Tru-Universal Dimmer is also available in black, brown, nickel, antique brass, and dark bronze finishes.

Legrand have also created a series of videos that discuss the Harmony Tru-Universal Dimmer from three different perspectives:

Contractors:   http://youtu.be/Rhmj_88avdA
Distributors:   http://youtu.be/URnTrltSjB0
Homeowners: http://youtu.be/fYq3we07K5o

Connect with Legrand on Facebook www.facebook.com/legrandna, Twitter www.twitter.com/passandseymour or www.twitter.com/legrandna, and YouTube www.youtube.com/legrandna

About Legrand
Legrand is the global specialist in electrical and digital building infrastructures. Its comprehensive offering of solutions for use in commercial, industrial and residential markets makes it a benchmark for customers worldwide. Innovation for a steady flow of new products with high added value and acquisitions are prime vectors for growth. Legrand reported sales of close to $5.8 billion in 2012. Legrand has a strong presence in the North American market, with a portfolio of well-known product lines that include Cablofil, Electrorack, Middle Atlantic, NuVo, On-Q, Ortronics, Pass & Seymour, Vantage, Watt Stopper and Wiremold. The company is listed on NYSE Euronext and is a component stock of indexes including the CAC40, FTSE4Good, MSCI World, ASPI and DJSI (ISIN code FR0010307819). www.legrand.us
More from Agricultural & Farming Products