Universal Controllers target water treatment applications.
Press Release Summary: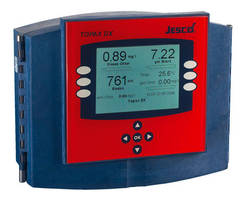 Using direct sensor inputs or 0/4-20 mA signals, TOPAX® DX, TOPAX® DE, TOPAX® L, and TOPAX® LF measure and control all standard water parameters. PID control function, 2-sided control, cascade control, and disturbance-variable feed-forward are possible. Control output can be linked to metering pumps, control valves, frequency converters, or other correct elements, and for remote monitoring or recording, connection to PC, recorder, or printer can be established.
---
Original Press Release:

Lutz-JESCO America Corp. Announces a Measured Step Forward with the Addition of TOPAX® Controllers



Measuring and control technology for use in a wide variety of applications

Rochester, NY, - Lutz-JESCO America Corp., your source for Total Fluid Management, now offers a range of Measuring and Control devices with our TOPAX® line of controllers, designed to handle a wide variety of applications due to their design as universal controllers, thus ensuring the right water quality in modern water treatment.
We offer four types of TOPAX® Controllers: the TOPAX® DX, TOPAX® DE, TOPAX® L and TOPAX® LF, which provide the following benefits:

o All standard water parameters can be measured and controlled via direct sensor inputs or 0/4...20mA signals,

o PID control function, two-sided control (i.e. metering of acid/base solution), cascade control, and disturbance-variable feed-forward is possible,

o Control output can be linked to metering pumps, control valves, frequency converters or other correcting elements,

o For remote monitoring or recording, a connection to PC, recorder or printer can be established.

All required functional elements can be mounted on the sampling stations ready for connection. Although we have great product variety, we are able to supply the appropriate sampling station for each application. In addition, we offer TOPAX® computer software, TopView, which allows control of networked TOPAX® systems via a PC - and thus the remote monitoring and setting of the controllers. Furthermore, central recording of the measured values is possible. The configuration of TopView meets all of our customer's needs, as the program is available for several different performance levels.

Make Lutz-JESCO America your choice for Total Fluid Management(TM). Lutz-JESCO has been providing quality chemical metering pumps and systems to a variety of industries for over 70 years. Choose Lutz-JESCO for: Metering Pumps, Centrifugal Pumps, AOD Pumps, Chemical Feed Systems, System Accessories, and Measuring and Control. With Lutz-JESCO, you're getting more than just high quality, durable, reliable pumps and products, combined with our extensive chemical feed knowledge backed by our commitment to provide you with the Total Fluid Management(TM) solutions for your needs.

For more information on our products visit: http://jescoamerica.com/

More from Software