Universal CMM Controller promotes operational flexibility.
Press Release Summary: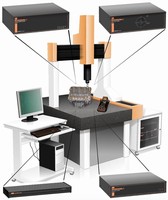 Providing core enabling technology for Renscan5 five-axis coordinate measuring machine (CMM) inspection system, UCC2 offers configurable package that promotes probing flexibility and throughput without compromising metrology performance. Multi-axis controller supports I++DME protocol and utilizes machine dynamic compensation techniques and optional scanning plug-in. Along with 4-axis control, features include calibration routines for Renishaw probe technology and complete error map.
---
Original Press Release:

New Range of Advanced CMM Controllers Supports Metrology Revolution



Universal controllers bring lean advantages to part qualification, enabling faster CMM inspection and production throughput, even upgrade of existing CMMs

September 2006 - Renishaw is helping to lead a mini-revolution in the world of metrology with the introduction of a range of new controllers that give unprecedented flexibility to users of coordinate measuring machines (CMMs). The controllers are among the first to support the evolving industry standard I++DME protocol, created to allow CMM users to use their preferred measurement software with any machine control. UCC2 provides a core enabling technology for the new Renscan5 ultra-high-speed, five-axis CMM inspection system

The new family of universal CMM controllers (UCC) and servo power amplifiers (SPA) provide cost-effective solutions to every measurement requirement from basic touch-trigger probing on manually operated machines to a fully automated multi-axis CMM with advanced scanning capability. The result is a configurable package that delivers unrivalled levels of probing flexibility and increased throughput, without compromising metrology excellence.

For sophisticated probing requirements, UCC2 is a high power, multi-axis universal CMM controller, which offers greater measurement throughput by utilizing powerful machine dynamic compensation techniques, innovative scanning routines and higher data processing power than the earlier UCC1 system. Integrated into the revolutionary Resnscan5 system, UCC2 provides patented MoveScan(TM) software that synchronizes and smoothes motion between the CMM and the REVO head. On-the-fly repositioning of head and stylus between part features shortens scanning time.

The UCC2 forms the foundation for Renishaw's future high-speed scanning systems. Choosing the UCC2 controller ensures a guaranteed upgrade path to the latest Renishaw technology.

Standard features of the UCC2 controller include an interface for Renishaw's market leading SP25M scanning probe, 4-axis control, advanced calibration routines for Renishaw probe technology and a comprehensive error map which compensates for the whole range of geometric, temperature and machine dynamic errors. For users choosing the optional scanning plug-in, there is the added benefit of Renscan DC(TM), a powerful aid to productivity which allows a CMM to perform high speed scanning with accuracy levels normally associated with slow speed operation.

The new SPA2 servo power amplifier offers full digital tuning in a '3+1 axes' or '6+1 axes' package. When combined with the UCC2, they form an excellent retrofit package allowing older touch-trigger only CMMs to be updated to full scanning capability. Both may be easily retrofitted to the majority of CMMs by a worldwide network of Renishaw-trained and accredited companies.

A further, no-cost option with all the new family of UCC universal CMM controllers is Renishaw's UCCassist(TM) software package, which offers users a range of diagnostic tools, support for Renishaw's CMM performance analysis checking device (MCG), and automated error map collection.

For all UCC family users, a major benefit will also be compatibility with the revolutionary new industry standard I++DME protocol which will give cross-platform controller compatibility with all major measurement software packages. Developed to meet the demands of major users in the automotive industry, the importance of this new development will be felt across all industries using CMMs.

The protocol brings two revolutionary benefits to the measurement industry. For CMM users the ability to select their preferred software with their favored machine platform is a huge advance in flexibility. For machine builders, the result will be the ability to rapidly integrate future Renishaw products to provide users fast access to breakthroughs in measurement technology. Renishaw has been at the forefront of this exciting development.

Within the new family of UCC controllers, Renishaw offers UCCserver(TM) software, which handles all I++DME protocol communications.

For more information on UCC2 controller capabilities for higher CMM performance, contact Denis Zayia, CMM product manager. Tel 847-286-9953, email: Denis.Zayia@renishaw.com

Reader inquiries should be directed to:

In USA
Sue Wilm
Marketing Assistant
Renishaw Inc.
5277 Trillium Blvd.
Hoffman Estates IL 60192

In Canada
Dafydd Williams
General Manager
Renishaw (Canada) Limited
2180 Dunwin Drive, Unit #1
Mississauga ONT L5L 5M8

Related