Universal Angle Heads double as multiple fixed angle heads.
Press Release Summary: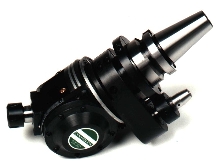 Universal Angle Heads (UAH) enable drilling, milling, and other metalcutting operations to be performed at any angle between ±90°. Shot pins are inserted at any angle to suit customer requirements and any number of angles may be selected. UAH 140, 175, 205, and 240, sealed, maintenance-free units cover spindle tapers from 30 to 50 BT-CT-DIN-HSK. Maximum tool dia that may be clamped in ER collet varies from 0.4 to 0.8 in. according to model.
---
Original Press Release:

New Universal Angle Heads Double as Multiple Fixed Angle Heads


British tooling manufacturer, Centerline, will launch in the US a new range of four award-winning, adjustable angle heads to enable drilling, milling and other metalcutting operations to be performed at any angle between ± 90 degrees. Previously the company manufactured only one head, compared with which the new models are more compact, lighter and more robust.

Additionally, the design now gives Centerline the ability to manufacture bespoke versions which, whilst retaining their universality, can also be set at multiple fixed angles. Shot pins are inserted at any angle to suit customer requirements and any number of angles may be selected.

Scope for maximizing the number of pins that may be inserted in a single UAH has been doubled by a further design innovation whereby the head can rotate by up to 90 degrees either side of the centerline, instead of in one direction as before.

The combination of universal- and fixed-angle operation in a single head is believed to be a world first and offers significant commercial potential, as the user has only to buy one UAH rather than an adjustable head and several fixed heads. In addition to the financial savings, productivity is increased as conversion from adjustable to fixed angle operation may be effected while the head is mounted in the spindle, thereby minimizing idle time.

In redesigning its UAH series, Centerline took the opportunity to improve the system for fixing the angle of the head in universal mode. The robust clamping method involves a pair of tapered locking rings rather than a screw and radial slot.

Designated UAH 140, 175, 205 and 240, the sealed, maintenance-free units cover spindle tapers from 30 to 50 BT-CT-DIN-HSK although alternative drive tapers are available. Maximum tool diameter that may be clamped in the ER collet varies from 0.4 to 0.8 inch according to model. All heads are capable of being changed automatically from the tool magazine in a machining center.

Direction and speed of rotation are the same as those of the machine tool spindle up to a maximum of 3,500 rpm for the two smaller heads and 3,000 for the larger models.

The RAD-120 right-angle milling, drilling and tapping head manufactured by Centerline has been redesigned with a fabricated rather than a cast aluminum body and weighs 10 per cent less at 9 lbs. The tool is intended to be changed automatically into the spindle of a machining center, so the magazine now supports less weight and ATC is faster.

At the same time, the previous square shape of the unit housing the bevel gears has been changed so that the two outer corners are chamfered. This contributes not only to the light weight, but also to reduced risk of interference with the component or other tooling in the machining area.

The introduction of the RAD-120 last year at the lower end of the
Centerline range, below the -160 and -225, was in response to high speed machining centers becoming smaller in size. The head has a 40 taper, a collet chuck for tool shanks up to 0.4 inch diameter, and a maximum speed of 6,000 rpm.

Double right angle units based on the RAD-120, -160 and -225 are also standard catalog items. They allow both sides of prismatic components to be machined in the same cycle without having to reposition the tool in the spindle. Adding further to the RAD tooling range are extended units increasing in 1.6 inch increments up to 11 inches from the gage line of the taper to the centerline of the cutter.

RAM versions of all these tools are available which accept taper tooling instead of having collet chucks to clamp the tool.

In the area of fixed angle heads other than the above 90 degree tooling, the angles of 60, 45 and 30 degrees are now standard catalog items available at the same price as the right angle heads. Centerline also manufactures an adjustable angle head.

25,000 rpm SPEEDER

A new spindle speed increaser has entered the standard Centerline range, designated '607', offering 6:1 speed increase to a maximum of 25,000 rpm continuous, 30,000 rpm at 20 per cent running. It is available with 40 BT-CT-DIN-HSK back end drive taper for automatic tool change on machining centers; or with an R8 shank and torque bar for turret mill users.

The sealed, maintenance-free units allow the benefits of high speed milling and drilling to be achieved on relatively slow spindle-speed machines. Unlike with the smaller speeders in the Centerline range that have 4:1 and 5:1 ratios, the higher speed-up of the '607' means that the spindle may be run at a slower speed, leading to less stress on the machine tool. Only machines capable of no more than 5,000 rpm would be running flat out to achieve the top speed. The front end of the tool has an ER11 collet chuck for tool holding. Maximum tool shank diameter is 0.28 inch.

On show also at IMTS 2002 will be Centerline's latest VDI driven and static tooling for lathes.

Centerline Centroid Inc, P.O. Box 21
McHenry, IL 60051
Tel: 815-385-0330. Fax: 815-385-0220.
E-mail: Info@Centerline-us.com
Web site: Centerline-us.com
Contact: Keith Millner

More from Packaging Products & Equipment