Universal Alert with Talking Receiver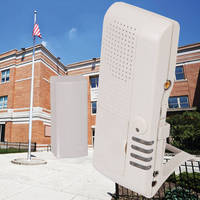 Tired of getting out of a warm bed to see if the garage door is closed? Are students leaving through the back door? Making repeat trips in the rain or snow to an empty mailbox? Are you worried about your teenager accessing the liquor or medicine cabinet? Worried about someone sneaking into your backyard through a gate?



The Wireless Universal Alert (STI-V34400) with talking receiver alerts when different conditions happen in or around the home or office. When the monitored site is tripped, it sends a wireless radio signal to the 4-Channel Voice Receiver (included). The voice receiver offers ten tones/tunes and 53 selectable words (in English or Spanish). Up to four tones/tunes or words can be programmed in sequence to identify which site needs assistance (i.e. Front window open, Medicine cabinet motion, etc.).



The alert can be used as: one on board reed switch, remote set of terminals or as a tilt switch. The transmitter's flexibility enables it to monitor devices such as: open/closed garage door, mail delivery, fence, gate, shed, front/side/slider/back door, window, cabinet, etc. It includes a magnetic contact with 18 inch lead for irregular installations.



To order or for more sales information on the STI Wireless Universal Alert (STI-V34400) or the entire Stopper® Line, call 800-888-4784, fax 248-673-1246, email info@sti-usa.com or visit www.sti-usa.com. STI's address is: 2306 Airport Road, Waterford, MI 48327-1209.



More from Electrical Equipment & Systems