Universal Air Filter Products Support Green Initiatives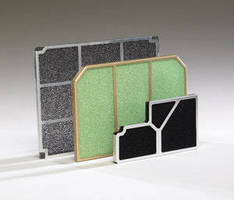 SAUGET, Ill.- These days, every product seems to claim they are environmentally friendly. For many years, Universal Air Filter® has been supporting green initiatives by helping to conserve energy and extend product life cycles with their flame-retardant, reusable and low-pressure drop filters.

"Our permanent, cleanable air filters offer several 'green' benefits for equipment cooling applications, from increasing their efficiency to reducing their waste," said Mike Miano, engineering and sales manager. "We design products that utilize materials that help keep energy conservation in mind and meet eco-friendly standards such as RoHS and REACH."

UAF filters can be designed and configured to maximize surface area to reduce pressure drop and promote increased service life. Low-pressure drop filters allow more airflow to help dissipate heat, resulting in the use of smaller cooling fans. Smaller and/or fewer cooling fans equal less money spent on energy to run the fans for equipment cooling.

UAF's filters also keep dust from accumulating on circuit cards within equipment cooling applications, allowing the product to operate under decreased heat conditions. This enables the system to run at a higher efficiency and therefore extends the life of the product.

Reusable filter frames allow customers to replace only the air filter media rather than the entire air filter assembly. UAF's clamshell and thin envelope air filter frames can be cleaned and reused to reduce waste as well as lower maintenance costs. These filter frame designs are manufactured to fit in tight spaces less than 6.35 mm or 0.25 inches thick and can be removed for service while continuing to reduce the risk of disturbing dust loaded on the filter. The frames also open for easy access to the media for simple cleaning and substitution. The media is designed to meet NEBS standards, which require a UL Classified framed filter assembly within telecom and/or datacom chassis.

UAF's Quadrafoam filters lower insurance cost by helping to reduce the chance of requiring extensive product replacement due to smoke and/or fire damage. The flame-resistant Quadrafoam media, which meets UL 94 HF-1, will self-extinguish to minimize fire propagation and help limit and contain flame spread to adjacent equipment.

Along with being REACH, RoHS and UL 94 HF-1 compliant, Universal Air Filters meet a variety of requirements. They comply with the following standards and classifications: UL 60950, EN 60950, ATCA, UL 900 Class 2, CE, UL 508A, Telcordia, NEBS GR-78-CORE and GR-63-CORE, micro TCA and ETSI.

A design engineer looking to evaluate any environmentally friendly UAF product can access UAF's complimentary, round-the-clock prototype service available worldwide via www.uaf.com/green. The prototype service provides design engineers with assistance in meeting critical design, testing and evaluation deadlines for air filter media. To receive a prototype, the engineer can submit a request on the Internet or via telephone, fax or e-mail. Once the prototype is submitted, it is produced and shipped within five working days.

For more information, contact: Universal Air Filter Co., 1624 Sauget Industrial Parkway, Sauget, IL 62206. Phone: 800-541-3478. Fax: 618-271-8808.

More from Fluid & Gas Flow Equipment