Universal Air Filter Keeps the Bugs Out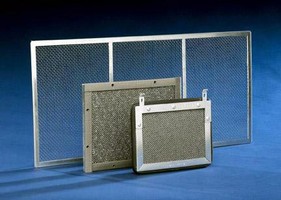 Specify Air Filter Screens That Won't Bug Your Equipment

Now design engineers can specify Universal Air Filters (www.uaf.com) that do more than protect outdoor enclosures from dust. They can keep the bugs out of equipment and critical cooling systems.

Dust may not be a major contamination concern in outdoor applications because air volume is usually large enough and fast enough to keep dust from settling, or equipment is not as sensitive to particulates. The real problems come from insects that can invade the unattended and often isolated cabinets. Airborne seeds from trees such as cottonwoods can also present significant contamination problems.

UAF's unique, low-profile Windowpane products can be configured to incorporate a mesh screen to prevent large insects, hornets and other airborne debris from collecting in an outdoor enclosure. These framed screens can be less than one-tenth of an inch thick. Roadside and pole-mounted electronics boxes, outside plant equipment, motor control centers, and wireless base station enclosures are ideal applications for this slim, lightweight bug screen.

In addition, UAF roll-formed aluminum frames can include open mesh wire cloth reinforced with Uni-grid support on both sides. Air is moved and sucked through the outdoor enclosure at high-volume and high-velocity so screens have to endure the stresses of constant air suction over prolonged time. The result is a more flexible and resilient filter product that is particularly effective in applications exposed to severe outdoor environments.

An open mesh screen will allow maximum airflow but keep out unwanted contaminants. The frames can be equipped with high-bond adhesive tapes, holes, self-clinching fasteners, or spring clips to allow for easy installation. Slim frames, high open-percentage screens, and sleek installation accessories provide the design engineer with the best combination of dust capturing capability and low resistance to airflow.

Universal Air Filter's products meet the following standards and classifications: UL 94 HF-1; UL 900 Class 2, CE; Telcordia NEBS GR-78-CORE and GR-63-CORE; and RoHS Compliance. When used as part of a fire enclosure, they also may be configured to comply with the flame-drip requirements described in UL 60950 and EN 60950.

A free, round-the-clock air filter prototype service is available to design engineers worldwide at www.uaf.com. The Internet-submitted prototype request form, or a quick phone call, fax or e-mail, is generally all it takes to get the necessary information so the custom prototype can be produced and shipped within five working days.

For more information, contact: Universal Air Filter Co., 1624 Sauget Industrial Parkway, Sauget, Illinois 62206. Phone: 800-541-3478. Fax: 618-271-8808. Web site: www.uaf.com.

News release and photo electronic files may be downloaded at: hughes-stl.com/pressroom/uaf.


More from Sensors, Monitors & Transducers