Union Process Builds Large Circulation Attritor System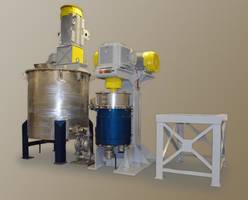 Akron, Ohio. . .Union Process, Inc., known globally as a manufacturer of particle size reduction and dispersing equipment, as well as a supplier of grinding media and materials characterization services for a broad range of research and industrial applications, has built a QL100 circulation Attritor for a large automotive accessories supplier.
Chuck Major, sales manager with the company, noted, "A number of things madethis project a 'win-win.' Not only did the Attritor need to be explosion-proof, but the customer had limited space. So, instead of purchasing several large batch Attritors, we recommended a large 1,000-gallon pre-mix holding tank as part of the system to increase their total production capacity with only one circulation "Q" system Attritor. This same customer previously purchased a large S400 batch Attritor and this time needed a much larger capacity that we could accommodate with the QL100."
The Attritor features a grinding tank with a gross volume of approximately 111 gallons. The mill is powered by a 125 HP, 2-speed explosion-proof motor with a variable speed drive. An IEC starter and pushbuttons with a digital AMP display and emergency stop are mounted in a NEMA 7/9 enclosure and completely wired to the motor.
A large 1,000 gallon stainless-steel, pre-mix holding tank completes the recirculation system. The customer also ordered 4,000 lbs. of ¼" through-hardened carbon steel grinding balls.
Since 1946, Union Process has been developing and building custom Attritors for a wide variety of applications for customers all around the world.

Union Process is the inventor and developer of Attritor technology and manufactures wet and dry grinding mills as well as the DMQX-Series horizontal bead milling system.

Attritor is a registered trademark of Union Process, Inc.
For information contact us at www.unionprocess.com/contact.html
Company Contact
Union Process, Inc.
Brian Li
330.929.3333
Agency Contact
Clayman & Associates
Marjorie Clayman
740.376.1470