Uninterruptible Power Supply supports internet servers.
Press Release Summary: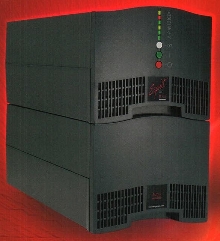 Pulsar Esprit 1.4kVA UPS, with external battery modules, provides power for up to 2 network servers for over 10 hours. True-redundancy system offers infinitely expandable battery options and suite of internet-grade monitoring and communications features, including Windows 2000 integration and XML web-based management. Esprit Series, with power ratings from 1.4 to 13.5 kVA, protects clusters of 2 to 15 critical servers with associated key peripherals.
---
Original Press Release:
MGE Introduces New Pulsar Esprit 1.4kVA UPS for Small Networks

COSTA MESA, Calif. - July 10, 2001 - MGE UPS SYSTEMS, the technology leader in Uninterruptible Power Supplies (UPS), today introduced its latest solution in improving the reliability of power to plants, facilities, and process control critical computing applications - the new Pulsar Esprit 1.4kVA Uninterruptible Power Supply (UPS). The new Pulsar Esprit is the newest development in high availability power protection. As power problems continue to plague California with an estimated 34 days of rolling blackouts predicted for this summer and lightening storms traveling across the nation, MGE developed the 1.4kVA model to help facility systems easily ride through extended power outages. The Pulsar Esprit with external battery modules can backup up to two network servers for over 10 hours - ample time to ride though most prolonged power blackouts.

The new Pulsar Esprit 1.4kVA model joins MGE's Pulsar Esprit series, which are the world's first UPSs to offer an optimized combination of availability and reliability required by the most demanding users. In addition to true redundancy, the new systems further enhance total power availability with infinitely expandable battery options and a suite of unsurpassed "Internet-grade" monitoring and communications features including Windows 2000 integration and XML web-based management. Esprit provides maximum availability with this comprehensive feature set at a cost comparable to that of a standard-availability UPS.

Easy Configuration and Installation
With the addition of the new 1.4kVA model, the Pulsar Esprit power ratings range from 1.4kVA to 13.5kVA and are specifically designed to protect clusters of two to 15 critical servers with associated key peripherals such as storage and backup devices. Based on modular, scalable building blocks, users can easily configure the system to provide virtually unlimited backup time with options for redundant batteries and chargers to assure maximum reliability as well as rapid recharging of even the largest battery bank. The modular design enables users to add
modules that increase power ratings or levels of redundancy as well as battery backup times as requirements grow.

The sleek modular design also enables easy installation with simple interconnects, standard NEMA power outlets and plug-in convenience up to 8.5kVA - another industry first. Users have a choice of 5U (8.75-inch high) rack-mount or flexible, low-profile freestanding configurations. Unlike many comparably sized devices, the Esprit models offer the convenience of standard 120 VAC output at all power levels while accepting 1 20V input up to 4.5kVA and 208V or 240V input at the 6kVA, 8.5kVA and 13.5kVA ratings.

Internet-Grade Monitoring and Communications
Offering the maximum level of hardware protection in a high availability Internetworking environment also requires an enhanced level of communication. To meet this need, all Esprit models come standard with a robust suite of communications capabilities using the first USB interface available on a server-grade UPS or a standard RS232 port. UPS-to-server communications are essential to assure graceful shutdown when batteries are depleted during extended power outages and to keep administrators informed of any other power-related events that may affect unattended servers.

The Esprit models are the first in their class to incorporate an internal communication protocol compliant with Microsoft's Human Interface Device (HID) protocol, the new standard for devices interfaced with Windows 2000. In fact, the Windows 2000 CD includes drivers for MGE's Esprit series that automatically installs a dedicated power panel necessary to secure the operating system during a prolonged blackout. The integration is so complete that a small UPS icon appears on the Windows task bar, making the UPS function as seamlessly as the batteries on a laptop.

Because the Pulsar Esprit has been designed with the Internet in mind, it is the first UPS to incorporate XML web-based management. Using XML tags to perform automatic actions, users for the first time have the ability to remotely control and monitor the UPS via the web unlike previous generation HTTP-based software that is only able to display status and alarm information. When the Esprit UPS is connected to any Windows NT/2000 server loaded with MGE's XML @gent software, the XML protocol allows users to assign automatic actions based on any power-related event via their web browsers.

Extensive OS and SNMP Compatibility
The new Pulsar Esprit models also include MGE's popular Solution-Pac power management software for Windows 95/98/NT/2000, Novell NetWare, SCO Unix v3.0, SCO Openserver 5.0, and Linux. With an intuitive graphical interface, the software assures automatic orderly shutdown of unattended servers during extended outages, automatic reboot, remote monitoring and more.

In addition, enterprise users can take advantage of the rich TCP/IP-based communications offering that MGE has developed for SNMP management on platforms such as HP OpenView, CA Unicenter TNG, Sun NetManager and others. With an optional Ethernet/SNMP card that fits into MGE's optional MultiSlot Communication Expander, users have access to a host of remote management features including pager or e-mail notification of power events and system scheduling. The same device lets users manage two redundant Esprit UPSs as a single UPS system on a network.

True Redundancy at an Affordable Price
Today's high availability servers include multiple internal power supplies for N+1 redundancy. The Pulsar Esprit is designed to fully address these multiple power paths with multiple power modules to assure maximum availability. The Esprit topology eliminates the single point of failure that is the "Achilles Heel" of traditional N+1 redundant power arrays that use a common stepdown transformer to power the server.

Pricing and Availability
Costing considerably less than traditional N+1 redundant power arrays, the new Pulsar Esprit Power Cluster 1.4kVA starts at only $1,584 in a single UPS configuration with one battery module. The Pulsar Esprit series are UL-1778 and cUL (Canada) approved. The UPS family conforms to FCC Class A parts, 15 sub parts, and meets ISO 9001 design and manufacturing standards. As with all MGE uninterruptible power supplies, the new Pulsar Esprit features a comprehensive two-year warranty and comes with MGE's exclusive $35,000 equipment protection warranty. To learn more about the innovative Pulsar Esprit, visit MGE's web site at www.mgeups.com.

About MGE UPS SYSTEMS:
MGE UPS SYSTEMS is the world leader in power protection for computer, Internet, telecommunications and industrial installations. MGE manufactures and sells a full range of UPSs and active harmonic conditioners and provides all associated services. With over 35 years of experience in the field and an active presence in more than 100 countries, MGE UPS SYSTEMS revenue amounted to $620 million in 2000 with 3,000 employees around the world. MGE UPS SYSTEMS is the only manufacturer in the world to offer such a wide range of UPSs, from 250 VA to 4800 kVA and has achieved worldwide recognition for backing up at least 90 percent of the Fortune 500 and 40% of Internet Data Centers. To learn more about MGE's innovative power protection solutions, visit MGE's web site at: www.mgeups.com or call MGE at 1-800-523-0142.


More from Electrical Equipment & Systems