Uninterruptible Power Supply offers 3-phase power protection.
Press Release Summary: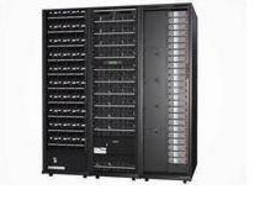 Providing up to 100 kW hot-scalable power protection, runtime, and power distribution, Symmetra PX 100kW is suited for small and medium data centers. Rack-based modular design enables users to scale power capacity in 10 kW increments up to 100 kW N+0 or 90 kW N+1. Unit also features Power Distribution Unit with Maintenance Bypass for safety, and hot-swappable Static Bypass Switch that enables UPS to transfer load to utility power without interruption in event of overload.
---
Original Press Release:

APC Unveils Symmetra® PX 100kW Power Protection System with Modular Power Distribution to Right-Size the Data Center



Unrivalled power, runtime & distribution allows user to safely expand and service the solution without hot work or forced shutdowns

LAS VEGAS - (INTEROP, booth 1343) - APC by Schneider Electric, a global leader in integrated critical power and cooling services, today announced an expansion to the Symmetra® PX product line of Uninterruptible Power Supply (UPS) units, with the introduction of the Symmetra PX 100kW. Providing up to 100kW of hot-scalable power protection, runtime and power distribution, the Symmetra PX 100kW is ideal for small and medium data centers. The unit offers high-performance, right-sized, three-phase power protection with industry-leading efficiency, availability, and reliability. Available with supporting power distribution/maintenance bypass panel cabinet, the Symmetra PX 100kW is well suited for high density zones within existing data center environments that need to expand equipment.

"Before the arrival of modular power protection, users were forced to rely on either a UPS that was vastly oversized, which dramatically reduced efficiency and unnecessarily increased electricity bills, or on a system that was an adequate size for present business needs, but could not be easily adapted to future changes," said Dave Guidette, senior vice president, Enterprise Systems, Services & Software, APC. "The Symmetra PX 100kW grows with the needs of the business, so customers only pay for the energy they need today, not what they expect to be using in the future. The system also enables data centers to meet high density requirements and lower total cost of ownership (TCO) through scalable power and runtime capabilities."

The standardized rack-based modular design of the SymmetraPX 100kW gives businesses the ability to quickly and easily install power protection for immediate needs, and also gives the flexibility for future expansion when IT infrastructure needs change. Users can scale power capacity in 10kW increments up to 100kW (N+0) or 90kW (N+1) without the cost and footprint requirements of a second system. With a compact and efficient footprint, Symmetra PX 100kW meets the high power requirements of high-density racks. Scalable power and runtime capacity reduce TCO by allowing IT managers to right-size the data center as demand grows or as higher levels of availability are required. The Symmetra PX 100kW also simplifies the management of unpredictable load demand: to adjust the power capacity of the system, a trained user can add or remove hot-swappable 10kW power and battery modules without removing power to the load.

A supporting Power Distribution Unit (PDU) with Maintenance Bypass features industry-leading safety and simplifies the installation and reconfiguration of the power distribution system. Power Distribution Modules easily snap into touch-safe slots in the PDU, so that a new circuit can be installed in mere minutes without performing risky hot work or shutting down the system. Included branch circuit monitoring simplifies power management.

Other features of the Symmetra PX 100kW include a hot-swappable Static Bypass Switch which enables the UPS to transfer the load to utility power without interruption in the event of a heavy overload or fault condition; no rear access requirements; and an optional integrated maintenance bypass panel cabinet which provides space-saving design and ability to isolate power distribution from the UPS while maintaining power to critical loads. The system's long-life battery modules feature battery units with an expectancy of 5-8 years.

Designed to address the increasing shortage of data center space, this UPS serves as the core power train that drives APC's InfraStruxure systems. The Symmetra PX 100kW can be integrated into data centers for a complete solution through built-in management software InfraStruxure Designer, Central, Capacity Manager, and server access support.

The Symmetra PX 100kW will be available in Q2 in North America and Latin America. For more information about APC's NetShelter product line, visit www.apc.com or call 800-877-4080.

About APC by Schneider Electric

APC by Schneider Electric, a global leader in critical power and cooling services, provides industry leading product, software and systems for home, office, data center and factory floor applications. Backed by the strength, experience, and wide network of Schneider Electric's Critical Power & Cooling Services, APC delivers well planned, flawlessly installed and maintained solutions throughout their lifecycle. Through its unparalleled commitment to innovation, APC delivers pioneering, energy efficient solutions for critical technology and industrial applications. In 2007, Schneider Electric acquired APC and combined it with MGE UPS Systems to form Schneider Electric's Critical Power & Cooling Services Business Unit, which recorded 2008 revenue of 2,6 billion (including APC-MGE sales of $3.7 billion) and employed 12,000 people worldwide. APC solutions include uninterruptible power supplies (UPS), precision cooling units, racks, physical security and design and management software, including APC's InfraStruxure® architecture, the industry's most comprehensive integrated power, cooling, and management solution. Schneider Electric, with 114,000 employees and operations in 100 countries, achieved sales of 18,3 billion in 2008. All trademarks are the property of their owners.

www.apc.com

More from Machinery & Machining Tools