Uninterruptible Power Supplies protect networking equipment.
Press Release Summary: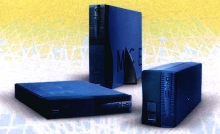 Pulsar Evolution Models 1500VA to 3000VA meet needs of security equipment and network and storage servers. Model 1500VA is only 1.73 in. (1U) high. Line-interactive models keep equipment running for at least 4 hr. For longer backup times, external battery modules can be added to Models 2200 and 3000, while Model 3000XL allows up to 12 battery module extensions. Local or remote network power administration is handled via USB and serial ports with Solution-Pac software.
---
Original Press Release:

MGE Delivers High-Density Pulsar Evolution UPSs for Protecting Security Systems, Storage Servers and Internetworking Equipment


Most Powerful Rackmount UPS in its Class

COSTA MESA, Calif. - May 6, 2002 - MGE UPS SYSTEMS, the technology leader in uninterruptible power supplies (UPS) for enterprise networks and Internet servers, today introduced three new models to its popular Pulsar Evolution family. To answer the critical power needs of security equipment, high-capacity network and storage servers, the new 1500VA - 3000VA UPS models are specifically designed to address costly power disruptions with their high power density, small footprint and external battery modules for extended back-up time. Of special note, the 1500 VA model is only 1.73" (1U) high, making, it one of the smallest UPSs on the market today for high-density rack environments.

Ideally suited for protecting security hardware such as video camera consoles, security clearance terminals and networks as well as Network Attached Storage (NAS) devices, the line-interactive Evolution models have enough battery power to keep three NAS modules up and running for 30 minutes or a DLT tape autoloader w/80 gigabyte capacity running for at least four hours - enough time to complete the backup sequence and conduct an orderly shutdown. For longer backup times, external battery modules can be added to the Evolution 2200 and 3000 models. For applications such as security and telecommunications that require backup times longer than four hours, the 3000XL model is equipped with a super charger allowing up to 12 battery module extensions.

As with MGE's other Evolution units, microprocessor-controlled charging extends battery life up to 50 percent, while smart battery management assures advanced warning when the hot-swappable batteries eventually need replacement. In addition, the Evolution incorporates high-frequency line-interactive technology that delivers a sinewave output (a must for servers), voltage correction as well as wide input voltage tolerances (especially important in fluctuating power environments).

Local or remote network power administration is handled easily through the unit's USB and serial ports with MGE's robust Solution-Pac power management software for Windows 95/98/2000, NT, Novell NetWare(R), SCO Unix v.3.0, SCO Openserver 5.0, and Linux. Solution-Pac provides advanced power management for one or more servers as well as SNMP or Web-based remote monitoring. With an intuitive graphical interface, the software assures automatic orderly shutdown of unattended servers during extended outages, automatic reboot, and remote monitoring. The robust software suite also includes free updates downloadable from MGE's web site at www.mgeups.com. To further enhance system reliability and uptime, UPS-driver software is also supplied with each unit that lets users adjust main operating parameters to ensure compatibility with all situations, in particular with respect to input voltage tolerances and UPS sensitivity.

A variety of additional advanced features ensure maximum protection for all connected equipment. Two to four programmable outlets can be used to quickly reset network devices remotely and allocate longer backup times to the most critical equipment. Data line surge protection via an RJ-45 pass-through connector shields a modem or network interface card from surges and spikes transmitted by phone or network cabling. A-cold start capability allows users to turn on the UPS and connected equipment even after the power has failed. In addition, the Evolution features a cable locking system to prevent hazardous disconnection of power cables.

These unique units incorporate a breakthrough design that eliminates the need for a bulky transformer used in competitive systems. Not only does this result in units that are half the size of previous generation UPS models, the reduced parts count also results in increased reliability. List pricing for the 1500VA - 3000VA models starts at $775. The entire Pulsar Evolution family is available in power ranges from 500VA to 3000VA and features a comprehensive two-year warranty that includes battery replacement and comes with MGE's exclusive $35,000 equipment protection warranty.

About MGE:
MGE UPS SYSTEMS is a global provider of power quality solutions designed to increase the availability and uptime of any mission critical application or process. From desktop PCs to large Data Centers and telecommunication facilities to semiconductor manufacturing plants, MGE's UPS product and service solutions are deployed around the globe.

For over 35 years, MGE UPS SYSTEMS products have been the choice of the world's largest and most demanding companies and organizations. Always ready to satisfy new needs, MGE UPS SYSTEMS together with its 37 subsidiaries, 150 sales and customer service offices and production facilities in Europe, the USA and Asia as well as two R&D centers - in Grenoble, France and Costa Mesa, California, MGE can easily meet customer expectations throughout the world.

To learn more about MGE's innovative power protection solutions, visit MGE's web site at: www.mgeups.com or call MGE at 800-523-0142.

Contact:

Agency Contact:

Nancy Nelson Public Relations Manager

714-513-7363

nancy.nelson@mgeups.com

P.J. Jennings

Jennings & Associates

760-431-7466

pj@free-ink.com

Doris Cheng

Senior Account Coordinator

Jennings & Associates Communications, Inc.

Promoting Technology Around the Globe

doris@free-ink.com

free-ink.com

760-431-7466 voice

760-431-1406 fax


More from Architectural & Civil Engineering Products