Uninstaller Software supports 32-bit and 64-bit PCs.
Press Release Summary: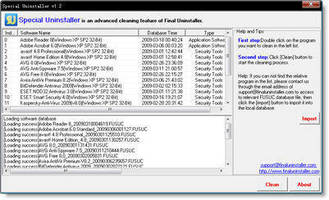 Special Uninstaller enables user to uninstall software with complicated uninstall procedures, such as spyware programs, anti-virus programs, and programs in Adobe series. Software can clean up leftover registries and hidden files caused by failed or incomplete uninstall. Software runs under Windows 98/2000/XP/2003/Vista platform.
---
Original Press Release:

New Plug-in Release for FU: Special Uninstaller



CheeseSoft has announced the release of a new plug-in for Final Uninstaller. Special Uninstaller is a Final Uninstaller plug-in that is specifically designed to enable users to safely and effectively uninstall software that involve complicated uninstall procedures, for example, spyware programs, anti-virus programs and programs in Adobe series, etc. Final Uninstaller, a comprehensive professional uninstaller solution, that supports both 32-bit and 64-bit PC computers, can now be supercharged for tasks of uninstalling complicated software with the Special Uninstaller plug-in.

Special Uninstaller plug-in can clean up the leftover registries and hidden files that caused by failed or incomplete uninstall. This focused-in feature allows users to handle the installation and uninstallation of complicated software much more easily, and let computer system function perfectly.

The Special Uninstaller plug-in requires the latest version of Final Uninstaller. Final Uninstaller provides an easy and comprehensive solution for uninstalling unwanted programs, whether it's running properly on your computer now or it has been corrupted and leaves some remnants after a failed uninstall or install. This easy-to-use Final Uninstaller allows users to say goodbye to a host of uninstall problems and increase PC performance.

"I don't know what's wrong with Add/Remove programs in Windows. It is just too slow and can't remove programs entirely!" comments Mark Levinson, a home user, "after trying FinalUninstaller, I now enjoy this new plug-in, because it dose clear everything out that windows uinstall dose not. It has helped to speed up my computer."

Pricing and Availability

Final Uninstaller runs under Windows 98/2000/XP/2003/Vista platforms and costs $27.95 (USD) for up to 3 computers. Registered users are entitled to free lifetime technical support and valuable bonuses. Further information on the product is available from finaluninstaller.com .

Purchase page: http://www.finaluninstaller.com/register/

Download link: http://www.finaluninstaller.com/download.php

E-mail: support@finaluninstaller.com

Web: finaluninstaller.com

Company Name: CheeseSoft

Phone: +86-771-3219660

URL: http://www.cheesesoft.com/

Contact Name: Fiona

E-mail: support@finaluninstaller.com

More from Thermal & Heating Equipment