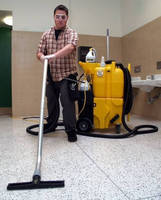 The facility manager at a Ohio college switched from conventional cleaning-using mops, buckets, sprayers, and brooms-to a more advanced technology, No-Touch Cleaning® developed by Kaivac.

With the No-Touch system, cleaning solution is applied to surfaces. The same areas are then blasted clean, and a built-in wet/vac picks up moisture and soil.

The machines were first tested in the kitchens of the college and proved to be effective: floors and other surfaces came out sparkling clean. Additionally, because the machines have a built-in vacuum system, the floors were dry almost as soon as the cleaning was completed.

"Sometimes our kitchen workers start their work while the floors are still wet," says the housekeeping manager. "There is always the danger of a slip-and-fall accident. But the Kaivac system dries the floors so quickly, this danger is eliminated. We are even trying to reduce our workers' comp insurance because of it."

About Kaivac, Inc.
Headquartered in Hamilton, Ohio, Kaivac, Inc. delivers complete science-based cleaning systems designed to produce healthy results and outcomes while raising the value of cleaning operations and the professionalism of the worker. The originator of No-Touch Cleaning®, Kaivac offers an integrated portfolio of environmentally friendly cleaning products designed to remove the maximum amount of soil and potentially harmful biopollutants in the most cost-effective manner possible. For more information, visit www.kaivac.com.

More from Cleaning Products & Equipment