Underwater Pelletizer Dies eliminate die-hole freeze-off.
Press Release Summary: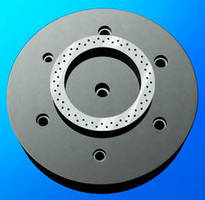 Pelletizer die designs incorporate 15% patented additives, boron, and ceramic in medium-grain tungsten carbide material. Alloy is used for solid ring or segmented construction of 0.240 in. thick die face. Dies allow melt up to 650°F to flow through die holes and cold water down to 34°F to contact cutting surface without die-hole freeze off. Melt leaves the die holes and enters the cutting chamber without encountering turbulence.
---
Original Press Release:

New Pelletizer Die Design Eliminates Die-Hole Freeze-Off



CROWN Machine uwp, Inc., Addison, IL, a provider of equipment for compounding, plastic recycling, pipe extrusion, profile extrusion and sheet extrusion, has developed underwater pelletizing dies that eliminate die-hole freeze off.

New pelletizer die designs incorporate 15% patented additives, boron, and ceramic in a medium grain tungsten carbide material. The alloy is used for solid ring or segmented construction of a 0.240-inch thick die face.

The dies allows melt up to 650F to flow through the die holes and cold water down to 34F to contact the cutting surface without die-hole freeze off. The melt leaves the die holes and enters the cutting chamber without encountering turbulence.
The tungsten carbide material is shaped via EDM (electrical discharge machining) followed by VSR/TSR (vibratory stress relief/thermal stress relief) conditioning to create a tough and durable die.

The hard faces are brazed in a vacuum or at atmospheric pressure with a 0.005-inch tin /0.010-inch copper /0.005-inch silver (Trimet) material, which adds to the toughness of the bond as well as acting as a shock absorber to reduce stress on the tungsten carbide hard face. The dies are ground to precision OD/ID/thickness and surface finish. The capillary holes are wire EDM'd to precise diameters to ensure consistent pellet sizes and smooth ID of the pellet holes.

Crown will provide opportunities to view its equipment at two upcoming shows: Chinaplas 2009 in Guangzhou, May 18-21 and NPE2009 at McCormick Place in Chicago June 22-26, 2009.

For additional information, contact:
Crown Machine uwp Inc.
511 Vista Ave.
Addison, IL 60101
Ph: 630.543.5240
Fax 630.543.4656
sales@crown-cdl.com
www.crown-cdl.com

More from Non-Industrial Products