Understand the Value Added Services Provided by Injection Molders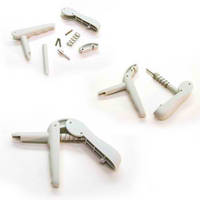 Below is a list of frequently performed post molding operations to help when discussing your next plastic injection molding project.

Assembly/Clean Room Assembly is assembling various plastic components and other components to make a sub-assembly or a complete component utilizing techniques like Ultra sonic welding, UV bonding, Air Cured bonding and Heat Staking. Assembly functions can also be performed in a clean room when bioburden and foreign particulates for all parts and completed assembly are a concern.

Packaging/Clean Room Packaging is enclosing or protecting products for distrubtion, storage or sale, this can be performed in a clean room when bioburden and foreign particulates for parts are a concern.

Heat Staking is when a plastic stud protruding from one component fits into a corresponding hole in the second component, the tip of the stud is heated to the point of softening, at which time, it gets flattened forming a head that is larger than the opening in the second component, this keeps the two parts from separating. This is a relative quick and simple process, no extra parts are required to join pieces together and plastic parts may be joined to other materials.

Ultra Sonic Welding a process for joining complex plastic injection molded parts by a solid-state weld created under pressure, there are no connective bolts, nails, soldering materials or adhesives.

UV Bonding & Air Cured Bonding - UV Bonding is the process of bonding using adhesive cured by ultra violet light. Air Cured Bonding is the process of bonding adhesive cured by air.

Pad Printing is a printing process where images are being transferred from a pad onto a plastic component.

Milling, Drilling & Tapping - Milling is the process of removing or cutting away unwanted material. Tapping is done in conjunction with drilling and consists of putting threads in a pre-drilled hole in your plastic component.
Vacuum/Pressure Testing a defined vacuum is generated in a chamber to measure integrity and measure leak-proofness of plastic components.
EMI shielding is performed to prevent passage of electromagnetic waves into or out of a plastic device.

Sterilization is the removal of all living organism including resistant forms such as bacterial etc, this can be done by irradiation (gamma ray or e-beam) and gaseous chemicals.

Annealing is a heat treatment that alters the microstructure of a material causing changes in properties such as strength and hardness.

To provide their customers with a single source solution, Crescent Industries offers several value added services either simple or complex to complete their customers' injection molded project. Also, they will perform custom operations per customer request. To learn more about Crescent value added services please visit our website www.crescentind.com/crescent_industries_value_added.html or call 1-800-411-3844.


More from Electronic Components & Devices