Underfill System meets demands of semiconductor flip chip devices.
Press Release Summary: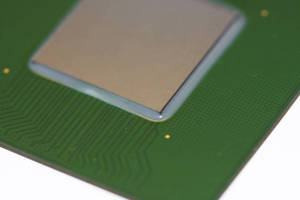 Addressing thin flip chip die challenges, LOCTITE ECCOBOND UF 8840 reduces package stress by controlling die and substrate warpage. Material is compatible with various flux systems, exhibits minimal resin bleed out, and delivers maximum process adaptability via compatibility with needle and non-contact dispensing methods. With dispense process window that promotes manufacturing flexibility, underfill system is formulated to flow consistently with no voids on up to 15 x 15 mm die.
---
Original Press Release:

Henkel Develops Underfill for Next-Generation Flip Chip Devices



New Formulation Reduces Stress and Controls Warpage for Today's Thinner Die and Substrates

Addressing the challenges associated with ever-thinner flip chip die, Henkel Electronic Materials has developed a new underfill system designed to reduce package stress through controlling die and substrate warpage. The new material, LOCTITE ECCOBOND UF 8840, is a high-performance underfill specifically designed to meet the demands of modern semiconductor flip chip devices.

Because the substrate and flip chip die have different coefficient of thermal expansion (CTE) characteristics, thermal processing (secondary reflow) can lead to either upward ("smiling") or downward ("crying") package warpage which may ultimately result in poor reliability. Plus, as die and substrates get even thinner, controlling warpage is becoming more critical than ever before. LOCTITE ECCOBOND UF 8840 is designed to effectively control warpage even as die thickness diminishes.

"The ability to lower stress and control warpage on today's low profile packages is challenging at best," comments Brian Toleno, Ph.D., Director of Global Product Management for Underfills and Encapsulants. "Being able to ensure die flatness while also delivering exceptionally high reliability isn't easy, but LOCTITE ECCOBOND UF 8840 delivers on this requirement."

LOCTITE ECCOBOND UF 8840 offers compatibility with a wide variety of flux systems, has minimum resin bleed out, delivers maximum process adaptability through compatibility with both traditional needle dispensing and non-contact dispensing and has a wide dispense process window for manufacturing flexibility. LOCTITE ECCOBOND UF 8840, has been formulated to flow consistently with no voids on flip chip die up to 15mm x 15mm.

As tested against competitive materials, LOCTITE ECCOBOND UF 8840 delivers less warpage and lower stress than other materials currently available. Testing in an applications laboratory environment shows reduced warpage - less than 80µm on a 20mm x 20mm flip chip die with a thickness of 730µm -- and compatibility with a variety of die passivations.

"When evaluated at customer sites, LOCTITE ECCOBOND UF 8840 delivered excellent device reliability and minimal warpage-induced stress even on 155µm thick flip chip die," concludes Toleno. "Being able to provide such outstanding performance and high reliability on much thinner die for die sizes up to 15mm x 15mm for fcCSP devices is, indeed, good news for the semiconductor packaging industry."

For more information on LOCTITE ECCOBOND UF 8840, log onto www.henkel.com/electronics or call 714-368-8000.

About Henkel
Henkel operates worldwide with leading brands and technologies in three business areas: Laundry & Home Care, Cosmetics/Toiletries and Adhesive Technologies. Founded in 1876, Henkel holds globally leading market positions both in the consumer and industrial businesses with well-known brands such as Persil, Schwarzkopf and Loctite. Henkel employs about 47,000 people and reported sales of $21.7 billion and adjusted operating profit of $2.8 billion in fiscal 2011. Henkel's preferred shares are listed in the German stock index DAX.

Contact

Henkel Electronic Materials LLC
Doug Dixon
Phone: 714-368-8000
Fax: 714-368-2265
doug.dixon@us.henkel.com
www.henkel.com/electronics

More from Architectural & Civil Engineering Products