Underfill Material offers CSP and BGA support.
Press Release Summary: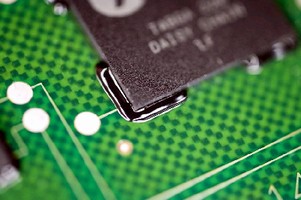 Suitable for laptops and gaming consoles that may experience only occasional vibration, 1-component Loctite® 3508 is pre-applied at corners of CSP pad site using standard dispensing system. It can be applied in-line with existing equipment with curing taking place during normal solder reflow process. Reworkable, lead-free compatible material enables total ball collapse and self-alignment properties to compensate for slight component-to-pad misalignment during placement.
---
Original Press Release:

New Cornerbond(TM) Material from Henkel Offers Exceptional CSP and BGA Support with Self-Alignment



In its continuous quest to deliver reliability enhancing materials for today's advanced devices, Henkel Corporation has engineered a cost-effective Cornerbond(TM) underfill material for BGA and CSP devices.

The new material, Loctite® 3508, is a one component epoxy that is pre-applied to the board at the corners of the CSP pad site using a standard dispensing system. Unlike capillary flow underfills which require dedicated equipment and subsequent process steps, Henkel's Loctite 3508 can be applied in-line with existing capital equipment with curing taking place during the normal solder reflow process, thus delivering considerable cost savings and dramatically improving throughput.

While next-generation capillary flow underfills remain the best option for drop-test protection of BGAs and CSPs used in modern handheld devices, Henkel's Loctite 3508 material is the most cost-effective solution for packages within other mobile products - such as laptops and gaming consoles -- that may experience only occasional vibration. As the material is cured during solder reflow, Loctite 3508 was specifically designed to be compatible with this process and the higher temperature requirements of lead-free manufacturing. The BGA solder reflow process dictates that solder balls collapse and self center so that proper interconnections between the device and the board can be formed. When adhesives that were not designed for this process are used as corner support materials, self centering does not occur, thus resulting in poor interconnections and solder joint opens and fractures that may cause decreased reliability or total device failure.

Henkel's new Loctite 3508 material provides the properties necessary for exceptional device support, while also enabling self centering and proper solder sphere collapse. The unique characteristics of the Cornerbond system are lead-free compatible, adaptable to in-line processing and enable total ball collapse and the self-alignment properties necessary to compensate for slight component to pad misalignment during device placement.

Another key benefit of Loctite 3508 is its reworkability - a feature that allows manufacturers to remove defective devices without having to scrap an entire assembly. Boards used in applications such as ultra mobile personal computers, laptops, desktops and server boards can be quite costly, so a reworkable underfill material is essential for manufacturers who want to optimize resources. With a pot life of greater than 30 days, maintenance at standard refrigerated storage and exceptional stability at room temperature, Loctite 3508 also delivers maximum ease-of-use and measurable cost savings.

For more information on Loctite 3508 or any of Henkel's next-generation materials, call the company's headquarters at 949-789-2500 or log onto www.henkel.com/electronics.

About Henkel
For more than 130 years, Henkel has been a leader with brands and technologies that make people's lives easier, better and more beautiful. Henkel operates in three business areas - Home Care, Personal Care, and Adhesives Technologies - and ranks among the Fortune Global 500 companies. In fiscal 2006, Henkel generated sales of 12.740 billion euros and operating profit of 1,298 million euros. Our 52,000 employees worldwide are dedicated to fulfilling our corporate claim, "A Brand like a Friend," and ensuring that people in more than 125 countries can trust in brands and technologies from Henkel.

Contact
Henkel Corporation
Doug Dixon
Phone: 949-789-2500
Fax: 949-785-2595
doug.dixon@us.henkel.com
www.henkel.com/electronics

More from Communication Systems & Equipment