Ultrasound System features multi-rendering 3D/4D technology.
Press Release Summary: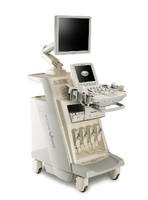 Equipped with 19 in. flat screen, ACCUVIX V20 Prestige OB/GYN Ultrasound System features 3D Multi-eXtended Imaging(TM), including Multi Volume Slice(TM), Mirror View(TM), Multi OVIX(TM), and 3D Orientation Help(TM). System also comes with extended diagnostic tools such as Auto IMT(TM), panoramic imaging technology, and DMR+(TM), which is optimized for evaluating detailed obstetrical, pelvic, and abdominal anatomy. For optimum user comfort, system provides 360° articulated monitor arm and ergonomic key grouping.
---
Original Press Release:

MEDISON Launches New Dedicated OB/GYN 3D/4D Ultrasound System, ACCUVIX V20 'Prestige'



SEOUL, Korea, Sept. 21 /-- MEDISON (CEO: Wongihl Sohn, www.medison.com), has announced the launch of a new dedicated high performance OB/GYN ultrasound system, featuring the industry's first multi-rendering 3D/4D technology, 3D MXI(TM) (3D Multi-eXtended Imaging(TM)) - ACCUVIX V20 'Prestige.'

"As an ultrasound manufacturer that introduced the first commercial 3D/4D ultrasound device to the world, MEDISON has been actively moving forward to innovate ultrasound imaging technology," said the director of R&D center of MEDISON headquarters. "With MEDISON's accumulated and advanced technology in ultrasound imaging industry and our consistent effort to develop better ultrasound system for caring life, I believe that the 'Prestige' takes you beyond your imagination by helping you identify and diagnose more efficiently and accurately."

The 'Prestige' is the ultrasound imaging system, offering a 19-inch high-resolution flat screen monitor and 3D MXI(TM) (3D Multi-eXtended Imaging(TM), including Multi Volume Slice(TM), Mirror View(TM), Multi-OVIX(TM), 3D Orientation Help(TM)), giving users higher quality images than ever with greater ease and improved diagnostic confidence.

Along with the cutting edge 3D MXI(TM) (3D Multi-eXtended Imaging(TM)), the 'Prestige' also comes with extended diagnostic tools including DMR+(TM) (DynamicMR+(TM)), Auto IMT(TM) and Panoramic imaging technology. With sophisticated image processing technology and automated diagnostic tools, MEDISON customers can get a rich and full experience on outstanding imaging performance and enhanced functionality for OB/GYN and general imaging as well. Especially DMR+(TM) (DynamicMR+(TM)) is fully optimized for evaluating detailed obstetrical, pelvic and abdominal anatomy.

Besides, the 'Prestige' is specially designed for optimum user comfort and workflow efficiency, provides 360 degree articulated monitor arm, ergonomic key grouping and 19-inch flat LCD with haze eliminating filter, allowing users to diagnose in ideal environment at daily practice.

The 'Prestige' will be available for global users, starting with the showcase at 19th ISUOG 2009, a world-renowned OB/GYN congress, which is being held on September 13th to 17th in Hamburg, Germany.

About MEDISON Co., Ltd

MEDISON has been a leading name in diagnostic ultrasound since its foundation in 1985. As one of companies dedicated solely to ultrasound imaging, we have remained at the forefront of research and development in 3D/4D technology for more than 20 years. Since revolutionizing the industry with the introduction of the first commercial 3D/4D ultrasound device, we have continued to innovate technologies that have made 3D/4D ultrasound an indispensable diagnostic tool for clinicians the world over. Today we continue to pioneer revolutionary ultrasound technologies and develop the ultimate in 3D/4D ultrasound imaging systems. For more information about MEDSION, visit website at www.medison.com.

CONTACT: Miso Kim, +82-2-856-3276, miso@aving.net

Web Site: www.medison.com/

Related