Ultrasound Inspection System helps increase plant reliability.
Press Release Summary: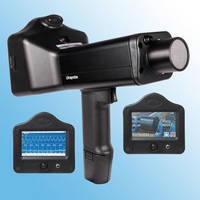 Ultrasonic condition monitoring system, Ultraprobe® 15,000 Touch, enables plant inspection professionals to analyze equipment conditions. Field inspections are enhanced via such on-board features as spectral analysis, camera, IR thermometer, laser pointer, stroboscope, and touchscreen display. Featuring diverse instrument operations supported by software, solution will measure, analyze, and collect all data for mechanical and electric equipment.
---
Original Press Release:

Ultraprobe® 15,000 Touch, an Ultrasound Inspection Laboratory for Plant Reliability



Elmsford, NY – UE Systems' Ultraprobe 15,000 Touch is an entire ultrasonic condition monitoring laboratory that fits in the palm of your hand.



The latest invention from the manufacturers of the world's leading ultrasonic detection instruments provides plant inspection professionals the ability to use "Touch Screen Technology" control to analyze equipment conditions.  Field inspections are enhanced with on-board features such as spectral analysis, camera, infrared thermometer, laser pointer (to pinpoint locations), stroboscope and a large display panel.  Instrument operations are supported by software that lets users plan/review routes, review historical record data, review baseline sound spectra and images, take test point temperature, photograph test points, select from multiple data screens including dB, temperature, and spectral analysis, adjust emissivity, store data, sounds, and data images, generate reports, review alarm groups, and much more.



Used for almost any plant application, the system will measure, analyze and collect all data for mechanical and electric equipment. The system can also serve as an energy conservation tool to find leaks as well as help determine carbon footprint emissions and overall energy consumption.



UE Systems has been setting the standards for ultrasound technology since 1973, and has been recognized as the worldwide leader in the development of airborne and structure born ultrasound inspection equipment.  Producers of analog and digital Ultraprobe® ultrasonic inspection guns, UES provides tools and training for enhancing any PdM program including the need for essential energy conservation techniques.

More from Electrical Equipment & Systems