Ultrasonic Wire Welder is microprocessor controlled.
Press Release Summary: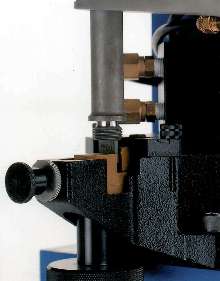 SpliceRite(TM), with 1500 and 2500 W power capacities, produces solid-state metallurgical bonds in wire harnesses and other types of wire bundles. Splicing system welds without melting wires or producing arcs, sparks, or fumes. Capable of welding multiple strands in one pulse, it can store and perform up to 250 weld protocols, allowing for selection of welding modes by time, energy, and distance. Microprocessor provides security features and interface with computer via RS232 port.
---
Original Press Release:

Sonobond Introduces New, Microprocessor-Controlled SpliceRite(TM) Ultrasonic Welder



WEST CHESTER, Pennsylvania, February 28, 2003 - Sonobond Ultrasonics has introduced the new, SpliceRite ultrasonic wire welder for producing consistent, solid-state metallurgical bonds in wire harnesses and other types of wire bundles. This microprocessor-controlled splicing system welds quickly, without melting the wires or producing arcs, sparks, or fumes. The equipment can weld multiple strands in a single pulse, and produces the lowest resistance and most reliable electrical connections possible. It was exhibited at WHMA in Anaheim, California, and will also be a part of Sonobond's Borderland exhibit, March 18 - 19, 2003 in El Paso, Texas.

With a microprocessor that can store and perform up to 250 weld protocols, the SpliceRite allows for the selection of welding modes by time, energy and distance. According to Janet Devine, President of Sonobond, this feature ensures precise, dependable welds every time. "With the SpliceRite, the setup operator can input weld parameters to control the weld by time, energy in joules or final weld height. If the weld doesn't fall within the preset limits, an alarm is sounded to alert the operator of an unacceptable weld." The microprocessor also provides security features that lock out stored jobs from operator adjustment, and allow the Splice Rite to interface with a computer via a RS232 port.

Patented Wedge-Reed system best suited for ultrasonic welding

The SpliceRite wire splicing system uses Sonobond's patented Wedge-Reed technology - a coupling system that utilizes high clamp force with low vibratory amplitude sonics, along with ultrasonic energy that's directed in a shear mode ...an essential requirement for metals being ultrasonically welded. Devine explains, "The SpliceRite is configured to provide the shear motion while putting the line of force directly over the parts to be welded. That's a distinct advantage over Lateral Dive technology, which is cantilevered."

The splicing process begins when the SpliceRite equipment directs ultrasonic energy to the clamped wire bundle. The vibratory energy disperses the oxides and surface films between the workpieces. The resulting bond has maximum electrical conductivity, without dipping, soldering or crimping. "The unit can join dissimilar metals, such as copper to aluminum, and it can also weld wires together or to terminals, even if the wires are oxidized," adds Devine.

Long-lasting Taper Lock Tips allow for a wide range of bundle sizes

Each SpliceRite includes a set of Taper Lock Tips made of heat-treated tool steel, which last up to 200,000 welds and are easily removed and replaced. The tips allow for a range of 1 to 30 square millimeters of final weld area depending on wattage of the power supply. The SpliceRite system is available in 1500- and 2500-watts power capacity.

The new SpliceRite wire splicer is ideal for the manufacture of wire harnesses found in automotive, aircraft, computers, electronics and a wide variety of other industrial applications. It is designed for single-unit production, but is adaptable for high volume automated production.

In 1960, Sonobond, formerly known as Aeroprojects, received the first patent ever awarded for ultrasonic metal welding, and today continues to be a worldwide leader in the application of ultrasonic bonding technology. Sonobond also provides ultrasonic bonding equipment for textile and plastic assemblies.

More from Health, Medical, & Dental Supplies and Equipment