Ultrasonic Welder targets thermoplastics applications.
Press Release Summary: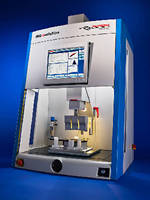 Available in models that generate 1,200-6,000 W, HiQ evolution features freely programmable effective stroke and High Motion Control pneumatic module, which precisely regulates pneumatic pressure. Automatic start activation optimizes quantity output, while Tool Change System with quick release fastener allows indexed tool change of preset Sonotrode-stacks without adjustment. As self-contained unit, HiQ evolution protects working area with safety light curtain.
---
Original Press Release:

The Power of Innovation - Customer Benefits with Every Weld Cycle



High-tech in ultrasonic welding of thermoplastics makes for profitable production

"The customers request enhanced process control, fast product changes and increasing efficiency of their Ultrasonic process. We listen to our customers and are proud to introduce the new HiQ evolution, which will demonstrates that Herrmann Ultrasonics is the Recognized Technology Leader," says Uwe Peregi, Exec. VP & General Manager at Herrmann Ultrasonics in Bartlett, IL. It is essential to respond to the trend towards more product variants and resultant smaller batch sizes. Nonproductive time needs to be reduced, because machine inactivity caused by time-consuming tool changes and setup work drives up the costs per unit.

In the welding labs at Herrmann Ultrasonics, hundreds of welding applications are solved each year and brought to series production. This extensive application expertise, combined with constant market observation and targeted customer polls, provided the basis for developing the new ultrasonic welding machine HiQ evolution. In addition, topics like energy efficiency, user-friendliness, the upcoming New Machinery Directive and ergonomics all had to be considered by the Herrmann development team. Energy efficiency, in particular, is becoming ever more important when buying equipment. Responsible handling of resources and rising energy prices represent both a challenge and an opportunity. While ultrasonic welding technology for thermoplastics is already considered a quite energy efficient joining process, production environment is now being scrutinized for additional saving potential. With the HiQ evolution for 20, 30 and 35 kHz a new machine concept hits the market that differs from current weld systems in many ways.

Customer benefits at many levels are obvious, especially considering the importance of life cycle costing for production machines:


Reduction of non-productive time


Flexibility through freely programmable effective stroke


Fast Sonotrode-stack exchange - no tools required


Automatic start activation (enhanced productivity)


Energy efficiency


Safety standard (EU New Machinery Directive)


User-friendly: intuitive user navigation with EasySelect and Expert mode


Higher generator output of 1200 - 6000 Watts

Six modular auxiliary functions can be ordered as options, for example clamping system, pneumatic hold-down device and shuttle table.

Time and energy savings through freely programmable effective stroke

The completely new and unique effective stroke feature allows for optimized sonotrode motion thus saving pneumatic energy and time. After completion of the weld the sonotrode retracts just far enough for part removal and loading of new, unwelded parts. The complete stroke is only used for home position and tool change. Depending on the topology of the assembled parts, the consumption of compressed air is reduced by up to 80%. Monitored by an integrated position measuring system, any work position along the entire working stroke is feasible.

Pneumatics: an unbeatable drive concept

The power density makes pneumatics unbeatable when it comes to the ultrasonic welding process. The newly developed HMC (High Motion Control) pneumatic module is a closed-loop control unit which regulates pneumatic pressure precisely. In simplified terms, it operates based on electronic differential pressure control of the pneumatic cylinder and is active along the complete stroke range. The HMC pneumatic module offers advantages for driving ultrasonic tools with optimized speed and weld force profiling. It guarantees precise position control and provides overload and interference protection. The aligned non-contact, non-wear position measuring system offers measuring precision, even at high speeds and cycle sequences. Special drive cylinders with optimum friction coefficients improve the reproducibility of the weld, particularly when utilizing low forces. A unique SoftTouch Mode prevents damage to the joint geometry when the sonotrode descends on the part.

Quick and safe Sonotrode-stack exchange

The new tool change system TCS with quick release fastener allows an indexed tool change of the preset Sonotrode-stacks without time-consuming adjustment. This means the tool change can be accomplished accurately in seconds without any wrenches or alike.

Weld process software DIALOG 2.0

Nowadays, operating personnel is often challenged by complex software menus. Herrmann Ultraschall has responded to this problem with a new Look and Feel of its renowned weld process software. The intuitive menu navigation of DIALOG 2.0 - based on Windows® XP - facilitates communication and now offers EasySelect and Expert mode. With EasySelect the menus are reduced to basic functions for operators to navigate easily in firmware typical structures. When programming the six possible auxiliary functions, the intelligent system configurator, a Herrmann engineering software, helps to select control and motion settings. Various software additions are available to meet customer needs.

High-performance industrial PC: "Herrmann inside"

Central control is handled by the powerful H-IPC, specially designed and configured by Herrmann, featuring a fast Intel® Celeron® M processor, large storage media and a 15" color touch screen. All main components - generator, H-IPC, HMC and position measuring system - communicate via Industrial Ethernet.

To the core: all-new digital generator

10 years after introducing the first fully digital ultrasonic generator, Herrmann has developed a new line of digital generators with 20, 30 and 35 kHz. The progressive development of electronic components has made it possible to build faster and more powerful generators. The product family includes models ranging from 1200 to 6000 Watts

Safety Protection Concept with light curtain

The new Safety Protection Concept is a sophisticated, safety category 4 machine concept that guarantees a high level of safety for operators and their environment. It gives the new machine its distinctive appearance and meets already all requirements of the upcoming EU Machinery Directive (effective end of 2009). As a self-contained unit, the HiQ evolution protects the working area with a safety light curtain featuring an LED status display. Automatic start activation increases the quantity output, giving the operator more time to perform additional tasks like pre-assembling, inspecting or packaging.

Workstation illumination and easy height adjustment of the welding head contribute to a productive work environment. In an era of globalization, reliable machine technology and life cycle costing are major factors for manufacturing companies. With its innovative technology and robust engineering, the HiQ evolution offers the best parameters for a fast return on investment.

Subject to technical changes

© Herrmann Ultrasonics, Inc. / reprint permitted / please send copy

More from Material Processing