Ultrasonic Welder provides precise linear actuation.
Press Release Summary: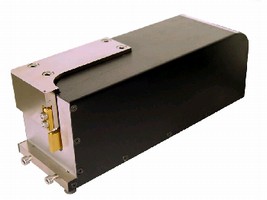 Delivering up to 800 W of ultrasonic energy, 40 kHz Sonic Weld 4010 is suited for non-ferrous metal-joining applications, such as welding battery components or small gauge electrical wires and terminals. Measuring 4 x 5 x 12 in., unit has ½ wave reach of 12 mm and full wave reach of 115 mm. Total travel of actuator is 25 mm. Components are easily presented between horn and anvil for manual or automated welding.
---
Original Press Release:

Sonic Tool Company, of Milford CT, introduces Sonic-Weld 4010



Sonic Tool Company's new Sonic Weld 4010 is a 40 kHz, linear ultrasonic metal welding system designed to be an economical solution for many nonferrous metal-joining applications

System
The Sonic Weld 4010 has been specifically engineered to provide precise linear actuation, and the precision application of 40 kHz, high power (up to 800 Watts) ultrasonic energy for critical, non-ferrous metal joining requirements. The Sonic Weld 4010 is ideally suited for welding battery components, or small gauge electrical wires and terminals.

The small size of the Sonic Weld 4010 (~ W 4", H 5", L 12") makes it easy to work with. The total travel (stroke) of the actuator is 25mm. The Sonic Weld 4010 has a ½ wave reach of 12 mm, and a full wave reach of 115mm. Components are easily presented between the horn and anvil for manual, or automated welding.

Headquartered in Milford, Connecticut, Sonic Tool Company is a leading worldwide supplier of ultrasonic metal weld equipment, tooling and technology.

Contacts:

General Information:
Robert Foster
Phone: 203-876-2881
E-mail this person

Company Information:
Name: Sonic Tool Company
Address: 28 Pamela Drive
City: Milford
State: CT
ZIP: 06460
Country: USA
Phone: 203-876-2881
FAX: 203-876-2883
http://www.sonic-weld.com/

More from Electronic Components & Devices