Ultrasonic Welder enables punch and weld in one step.
Press Release Summary: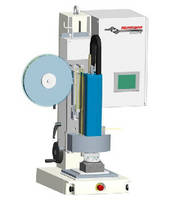 Featuring modular design, Model MPW offers ultrasonic welding as well as means of die punching filter membrane material into appropriate shape and transporting material to weld region. System utilizes reel-to-reel guide system to index membrane material into position via tension control. Cylinder actuates ultrasonic tooling through die-punch assembly, cutting material to size. As tool passes through punch, vacuum is applied to hold material in place for welding operation.
---
Original Press Release:

Ultrasonic Punch and Weld in One Step



Filter membrane material is being used more frequently than ever in the design of plastic automotive and medical devices. The membrane material allows a device to be completely sealed from condensation getting inside but allows air to escape freely; preserving proper function of the device through pressure changes and protecting sensitive electronics inside. This so called Pressure Balance Element (PBE) can be applied by mechanically clamping, gluing or by using a thermal joining technology such as ultrasonic welding.

Ultrasonic welding is a common method of attaching the membrane to an injection molded piece; a core application that Herrmann has had many years of experience perfecting the design of. During the process, the ultrasonic vibrations are used to melt the plastic housing material allowing the molten plastic to flow into the weave of membrane. Once the material cools the membrane remains embedded in the housing creating a pressure tight seal. Compared to alternative methods, ultrasonic welding has many advantages including: fast cycle time, low energy consumption and the process doesn't require consumables to be purchased.

Due to short cycle times, ultrasonic welding is very suitable for automation and manual operations. Typical applications require less than a few hundred milliseconds for the membrane to be immediately welded to the housing. On top of cycle time, the technology only uses 10% of the power compared to other joining methods such as heat; thus reducing utility costs and valuable energy usage.

The membrane material is offered by suppliers in roll or pre-punched disc form; the latter at a premium price. Besides cost, the challenge with these options is transferring the material accurately to the work piece in a consistent and timely manner.

The new modular ultrasonic punch and weld system MPW takes the technology to the next level providing all possible benefits to the end-user. The system is not only an ultrasonic welder, but a means of die punching the membrane into the appropriate shape and transporting the material to the weld region saving material cost and production steps.

This modular system utilizes a reel to reel guide system to index the membrane material into position via tension control. A cylinder actuates the ultrasonic tooling through a die-punch assembly cutting the material to size. As the tool passes through the punch, a vacuum is applied in order to hold the material in place for the welding operation.

The Herrmann MPW system is very flexible as it can be integrated into automation lines or used as a manual workstation. The fully integrated work station will be shown at the NPE (booth # 3073) in Florida.

www.herrmannultrasonics.com

More from Electrical Equipment & Systems